When you want something heard loud and clear, you would want it to be said out loud. Nothing represents this notion better than a megaphone. The free megaphone PowerPoint template that we have singled out for this post can help you get your message across; loud and clear. The original title of this template is Buzzword, however, it comes with a megaphone illustration which shows words coming out of a loudspeaker.
Be Heard Loud & Clear
There are 2 slides in this template, both with identical designs. The difference is that the first slide comes with an additional shadow behind the buzzwords coming out of the megaphone (as shown below). You can use this template for making all kinds of presentations related to topics like freedom of speech, social issues, taboos, as well as to present your take on a specific topic.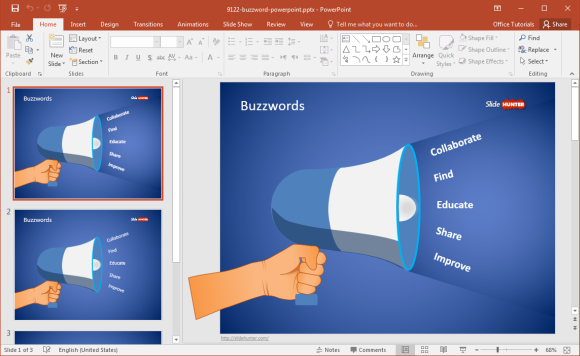 Editable Megaphone PowerPoint Template
You can edit the megaphone slides by changing the default buzzwords, as well as edit the megaphone itself using drag and drop. The illustration is made up of PowerPoint shapes, which makes the sample slides easy to edit, as comprehensively as you may like.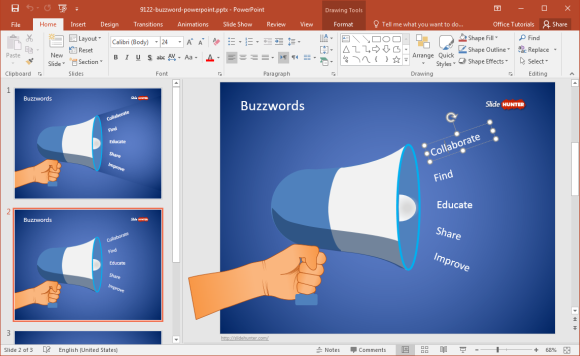 Change Color of Megaphone
You can even change the color of the megaphone using options from the PowerPoint Ribbon menu. Similarly, you can pick and choose individual slide objects to drag them around, rearrange, resize or recolor them, as needed.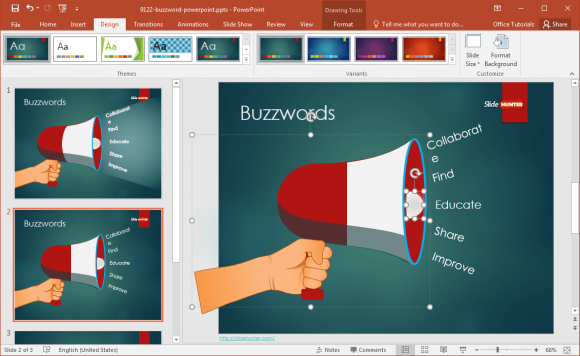 While the template has only 2 sample slides, you can easily duplicate slides to create comprehensive presentations by adjusting the default layouts to your presentation topic.