Meetings can produce great results when planned and conducted well. It is in meetings where problems get resolved, issues get tackled, and decisions are made. A well-planned meeting should have a clear agenda as well as a sensible and rational objective to be productive and to maximize the time that employees are pulled out of their work. The Free Meeting Minutes Template is a helpful tool for planning meetings. Like other free Office templates this template comes with multiple features that can help make your tasks easier. For example, with this template you can document the issues and discussions in the meetings, as well as the persons involved.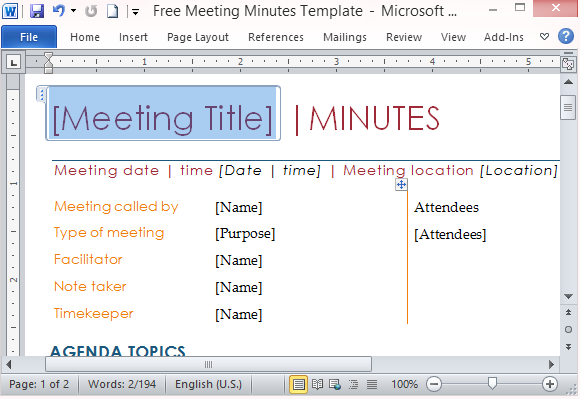 This Free Meeting Minutes Template for Word is a professionally designed template with clean lines and fonts so you can clearly see your information without unnecessary elements or images in the document.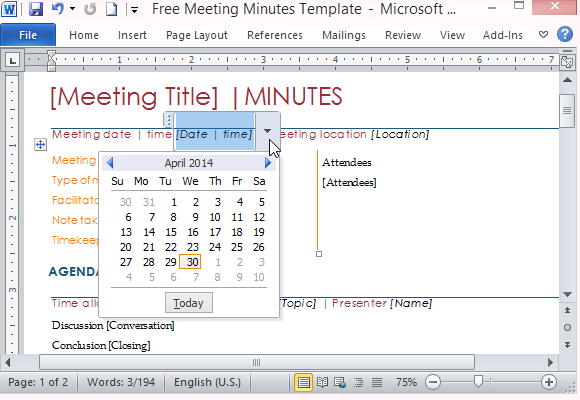 This meeting template contains the Meeting Title as the header of the document, in big text. Underneath is the meeting information such as the Date and Location of the meeting. This template allows you to conveniently choose the date of the meeting using a calendar created within the template.
Other details like the person who called the meeting, type of meeting, facilitator, note taker, timekeeper and attendees can also be found on the upper part of the template. Agenda Topics are also listed in the template. You can enumerate your agenda topics in the template and also write your allotted time and agenda presenter, which are all arranged in rows within the document. Under these is the Discussion, which includes the conversations that occur in the meeting, as well as the conclusion.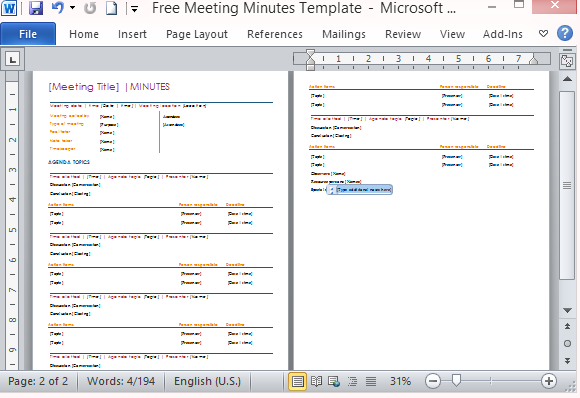 As with any effective and well thought out meeting, Action Points are important to identify how the company shall go about solving an issue or acting upon their decision. Action Items can be written under each Agenda Topic and each action item has a presenter, or the person responsible, and the deadline of the action item. This helps ensure that all action-driven plans borne from the meeting are pushed through and done within a reasonable timeline.
This template ends with a list of Observers, Resource Persons, and Special Notes. This Free Meeting Minutes Template can be used for any official or business meetings. You can use this template with Microsoft Word 2013 and older versions.