A marketing strategy is a detailed long-term plan on how to achieve certain business objectives.  An example plan is for a company to be a leader in the industry and certain activities need to be included in a marketing strategy or marketing plan in order to achieve that objective.
A marketing plan should encompass many company-specific information and activities. It should also be reasonable yet comprehensive, with plans that are achievable. Furthermore, it should also contain clear-cut activities to serve as directions to where the company should go in terms of its marketing efforts.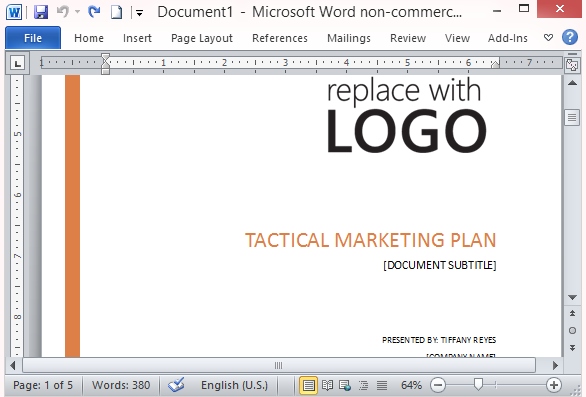 The Free Marketing Strategy Template for Word is a wonderful template to use if you want to create a well-written and detailed marketing plan. This template contains an outline that would help you develop an effective and tactical marketing plan.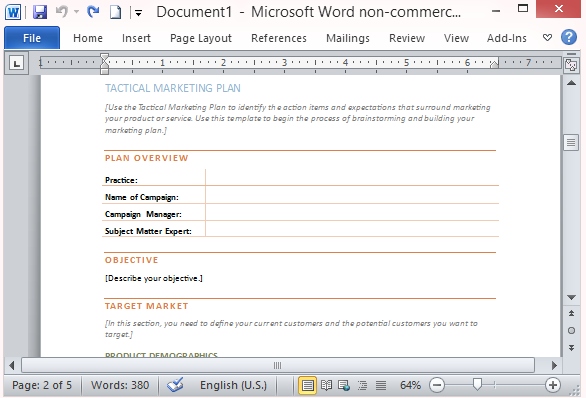 This 5-page template is designed and formatted as part of companion templates in the Marketing Strategy Set found in the Office website, which includes Marketing Campaign Evaluation, Marketing Message Analysis Questionnaire, and Target Audience Profiling Plan. Their design is sleek, clean, modern and minimalist, with an orange line and a spattering of orange texts throughout the template.
This Free Marketing Strategy Template for Word starts with an impressive title page that contains the company logo. There is a version number and date at the top of the page to indicate any revision. The title page contains the title of the document and the name of the presenter, as well as the company name and address.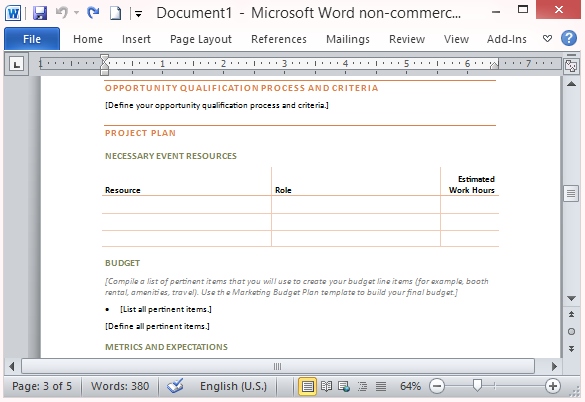 The succeeding pages and their headings serve as guides for you to fill in the correct information and develop your marketing plan. Here, you can write your action items and the expectations involving your marketing plan. It starts with a Plan Overview, Message Summary, Objective, Target Market, Process, Call to Action, Opportunity Qualification Process and Criteria, followed by Project Plan, and Campaign Sign Off. Each of these have descriptions and instructions so you know what information to type in each and every section. This template also contains table that you can easily fill with your own information.
To download this and other free Office templates, see the download link given below.