Some occupations can be hazardous or make you prone to accidents, which may render you to be unable to function well, be absent from work, or even hospitalized. Thus, part of the company's responsibility is to create programs aimed at avoiding work-related injuries. Here you can find a job accident report template for Microsoft Word 2013 and 2010.
Safe work practices that avoid accidents are important for employers and employees alike. When you encounter an accident or are injured, it is important to report it so you can be sure that your employer and your healthcare provider will give you compensation and coverage. You can write a Job Accident Report using Microsoft's Free Job Accident Report Template for Word.
Download Free Template for Job Accident Reports
This Free Job Accident template for Microsoft Word lets you create an accident report related to the job or the workplace. Whether you are the employer or the employee, you can use this Report Template by either printing it out as a form and filling it out or typing in information directly through your computer.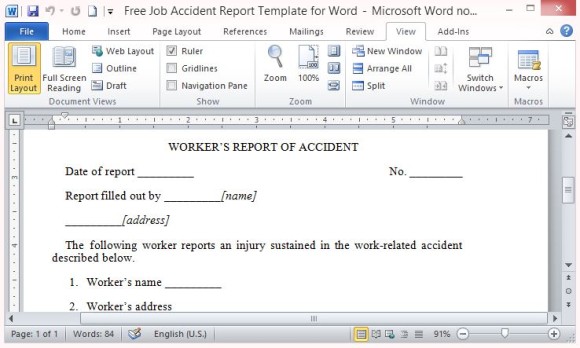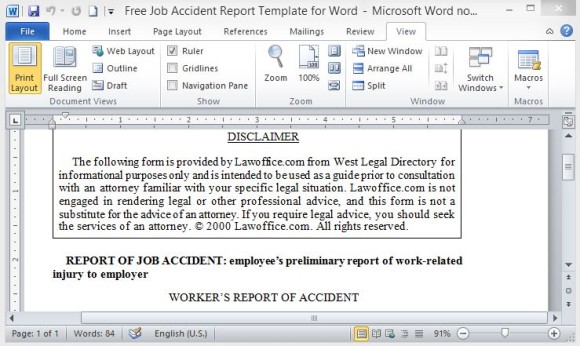 Either way, it is important to report any accident or injury, even if you think it is only a minor one. The Free Job Accident Report Template for Word lets you easily write all the needed information regarding the accident or injury.
This Word Template contains the Date the Report was written, the name of the employee filing the report and the address. This information is important if the one reporting the accident is not the one who sustained the injury, like a supervisor reporting a subordinate's condition or injury.
Standard Template for Every Workplace
This Job Accident Report Template is a standard template that can be used for any workplace. For any incident in any profession or industry, the needed information to report an accident is virtually the same. The body of the report contains the Worker's Name and Address, Date of Injury, Time of Injury, Address or Place where the injury occurred, Description of Injury or body part affected, as well as signature of worker.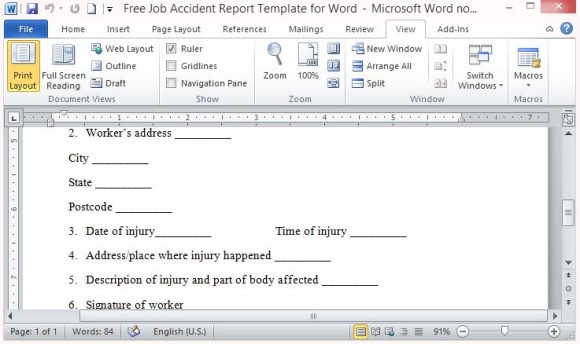 Using this Job Accident Report Template for Word ensures that the accident would not happen again. If an equipment caused the accident, then the equipment would be promptly repaired to avoid further injuring other employees. On the other hand, if an error in the workflow is the cause, then it would be properly rewritten or revised, or additional measures will be created to avoid any more accidents.
Update:
This template has been removed by Microsoft, you can download alternative incident report templates from the below link.
Go to Download Free Incident Report Templates (Alternative Templates)