Lamps hanging from the top can be used as slide illustrations to make your content more eye-catching. Such layouts are also quite unique and can be attention grabbing. The Free Hanging Lamps PowerPoint Template is a beautiful template which depicts lamps hanging in the dark. The template is quite minimalist and can be suitably used as a general-purpose template. You can use this template for making presentations on virtually any topic, be it career coaching, brainstorming, or to discuss key aspects of a business proposal, project, financial plan, etc.
Hanging Lamps Illustrations
This free presentation template can be used for personal, educational, as well as professional use at the workplace. The template starts with a slide which shows lamps hanging int the dark with space for introducing your organization, adding a title and you can even add your company logo to further refine the slide.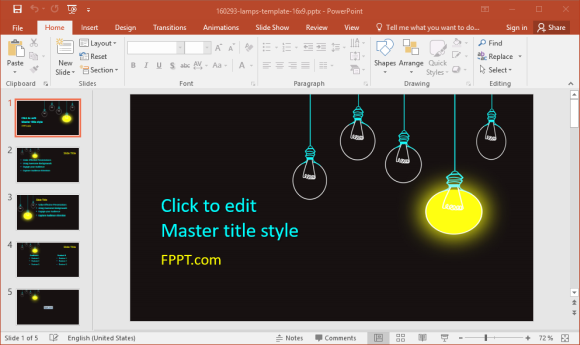 Easy to Edit Presentation Template with General-Purpose Slides
The remaining slides come in the form of bulleted lists and a comparison layout. the latter can be handy for making side by side comparisons. Furthermore, you can add slides, charts, infographics, images, tables and other content to slides, as you build your presentation.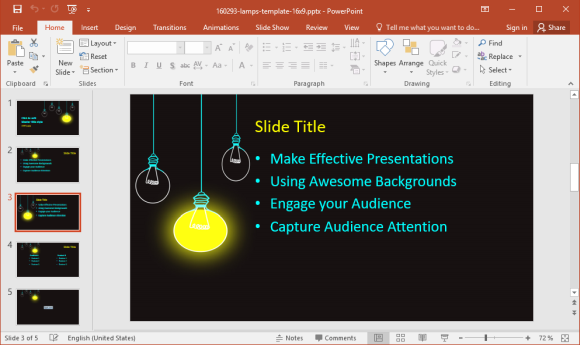 The presentation is also easy to edit. You can add new content by making use of the empty black space. The graphical layouts have been designed in a way that your content in lighter color tones, especially shades of white can stand out. You can use lighter shades to emphasize your content. The last slide gives a logo of the developer which you can replace to add your own organization's logo or a thank you note to conclude your presentation.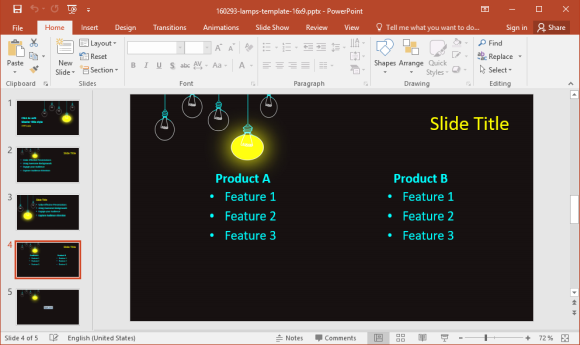 You can download the hanging lamps and other free templates for Microsoft PowerPoint from the link provided below.