The Halloween season has returned, and now it's time to get in the festive mood with some jack-o-lanterns. The Free Halloween PowerPoint Template can be your perfect pick for making Halloween presentations this year.
Halloween PowerPoint Template
Like the previously reviewed free Office templates for Halloween, this template also comes with easy to edit slides and attractive Halloween theme layouts. The template has a slide background with a jack-o-lantern. This image has been designed in such a way that it depicts a spooky atmosphere with a burning jack-o-lantern emitting light.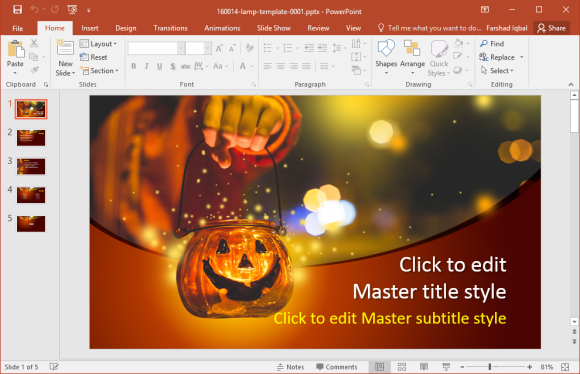 Jack-o-Lantern with Flames in the Backdrop
While the title slide has a larger version of the jack-o-lantern image, the following slides provide more space for adding your own text, charts, diagrams and images. The orangeish look of the template perfectly covers the Halloween atmosphere. The jack-o-lantern has been depicted in such a way that it appears to be a lantern held in a hand at night with flames in the background.
The background is not only perfect for adding the holiday cheer to your presentations but can also complement content such as a spooky video embedded in a PowerPoint slide.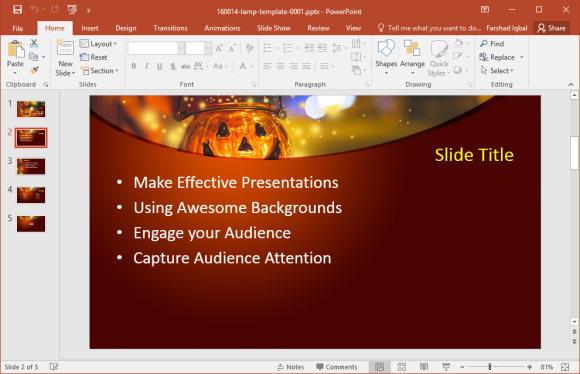 Sharp & Glossy Slides
The template has five sample slides but you can add more and even duplicate the ones available to redesign them according to your presentation topic. The colors of the template are quite dark and sharp, with a slightly glossy look. This makes the template more visually pleasing. The color combination of sample slides is well-matched, with shades of orange, yellow, brown and white.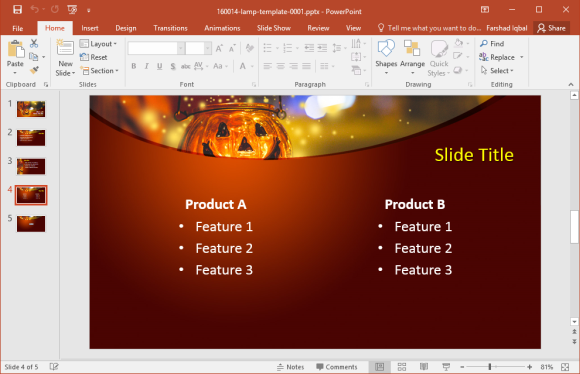 You can use the Free Halloween PowerPoint Template with PowerPoint 2007 and later editions for PC and Mac, such as PowerPoint 2008, 2010, 2011, 2013 and 2016. You can download this template and check out the various other Halloween themed presentation templates from the FPPT website via the link given below.