With the Internet, many businesses are going global. Service providers are no longer geographically limited and with the help of online portals like Upwork, employers and freelancers can come together from across the globe to work on projects. If you want to make a presentation about global business, then the Free Global Business PowerPoint Template can be a great choice.
Take Your Business Global
The template has some elegant slides with shades of blue over white space. The title slide depicts a hand holding the globe, with skyscrapers in the backdrop. This is followed by generic slides with white space for adding text and the same illustration in a smaller size on the top of each slide.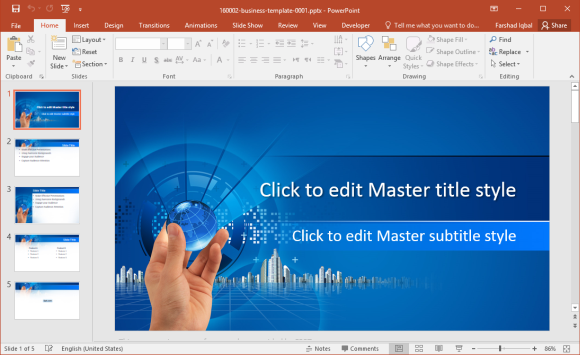 Easy to Read Slides
With a blue illustration on top of each content slide, the title text comes in white color, with easy to read blue text for the main content of sample slides. This makes the text easy to grasp, with the title and content depicted in different colors with distinct background colors.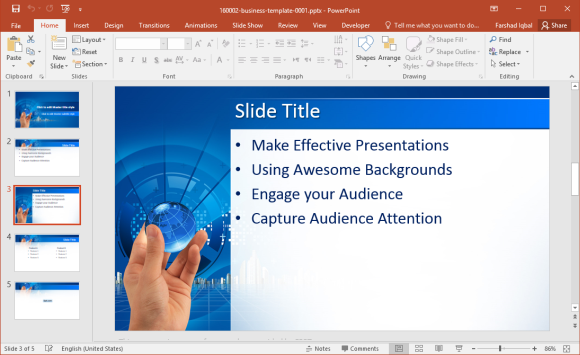 Minimalist Template with an Elegant Background Design
The template itself is quite minimalist, however the globe illustration adds a touch of elegance to the overall design. You can customize the sample slides, add new ones and make your slides interesting by adding charts, images, diagrams, infographics.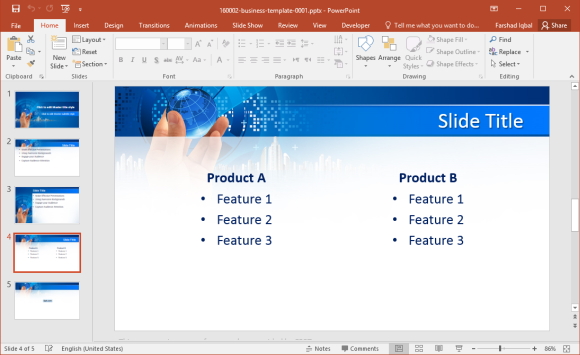 Widescreen PowerPoint Template
This is a 16:9 widescreen template available in PPTX format. The widescreen layout also gives you more space to work with and to better elaborate upon topics by making use of fewer slides.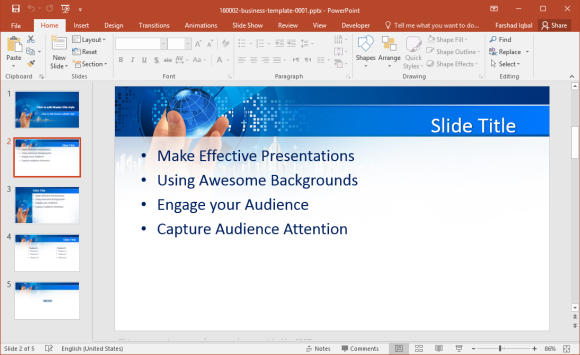 This means the template is by default compatible with PowerPoint 2007 and later editions like version 2010, 2013 and PowerPoint 2016. However, if you can save the template to the older PPT version, it can also be used with older versions.