Presentations about design, such as interior design, architecture, engineering, and other similar industries, need something that is eye-catching. A creative presentation in a creative field is an absolute must. And of course, you also have to present your data in various, attractive ways.
The Free Geometric Design PowerPoint Template is a professionally designed template that you can use for your creative and demanding presentations. It features a clean, streamlined look, with geometric lines going across the slides and a subtle, slightly transparent, thin white border framing your content.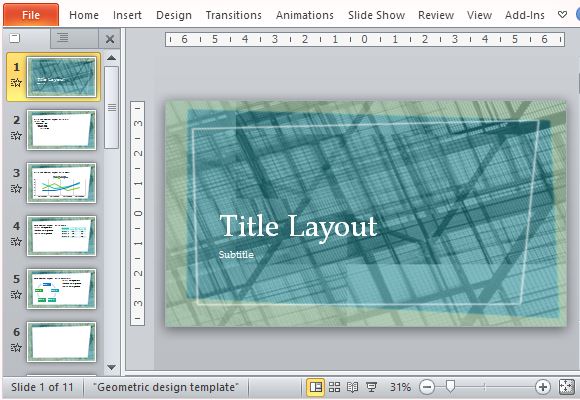 Clean, Standard Yet Flexible Design
This free PowerPoint template, although with a fixed geometric theme, is flexible enough to suit many types of presentations, such as business proposals, sales reports, project schedules, design proposals, and many more. It is optimized for Microsoft PowerPoint 2013, so it contains many beautiful features. Although in PowerPoint 2013, it still has backward compatibility with earlier versions.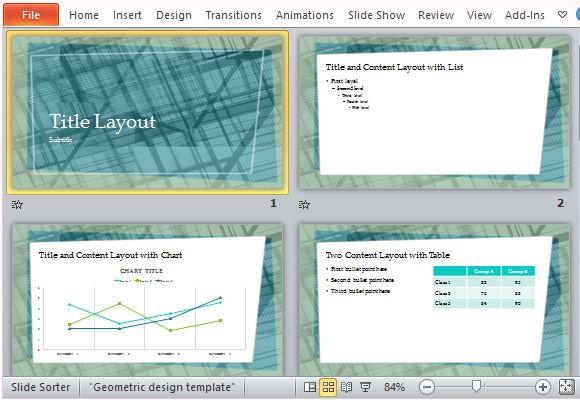 This professionally designed Free Geometric Design PowerPoint Template has 11, cohesively designed slides that retain the same clean lines with a blue and green color overlay. The first slide is a cover slide where you can strategically place your title with the help of a text placeholder. You can also type in your subtitle underneath.
Easily Customizable Professional Layouts
The rest of the slides allow you to present your content in various ways. You can play around with lists, graphs, charts, table or transition layouts. You can duplicate or delete the sample slides depending on your own presentation needs. You can also add new slides and choose from many more sample layouts to help you. Other layout options allow you to embed videos and photos as well.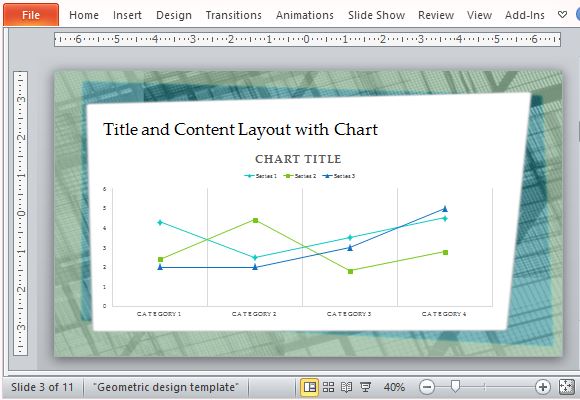 These inside slides maintain the geometric theme but have a solid white overlay to allow the audience to easily see your content even from afar. To still complement the geometric theme, the white overlay has uneven straight sides. Nevertheless, the theme and colors are still present in each slide, so your whole presentation looks clean and well put together.