Tracking expenses and ensuring that you do not overspend are vital things to ensuring financial health and stability. Whether you are budgeting and tracking your expenses for your personal finances, the ones for your household, organization, club, project, or even your business, you can easily create an expense report using free Microsoft Office templates such as what we have below.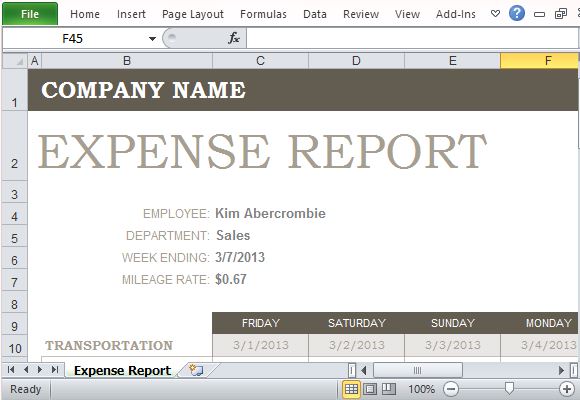 The Free Expense Report Template for Excel is a spreadsheet template to allow you to create comprehensive and detailed expense reports on a regular basis. This Excel Template is ideal for keeping track of your expenses in accordance to your budget, especially in business trips or in vacations.
This standard expense report template has multiple uses and is easily customizable for your purpose and need. The report contains all the pertinent information for you to organize and identify expenses and categorize them accordingly into Transportation, Meals, Lodging and many more. You can even add more categories or customize for your own needs.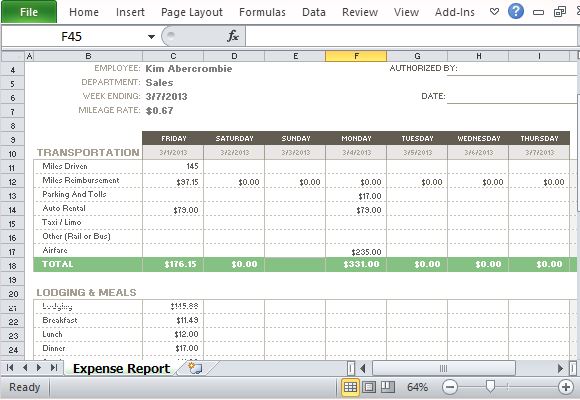 You can easily fill out the form to conveniently update your expense report in real time, or on a daily basis. The data, in terms of amounts, are typed into specific cells that correspond to the date the amounts were spent. The preset columns for each day of the week make it easy for you to organize and record your spendings, which is also important when you submit it for reimbursements, or simply for reporting in presentations.
With the built-in formula embedded within the template, the totals are already automatically calculated as you type so you can easily see which day you have spent the most amount of money and in what categories these spendings belong in.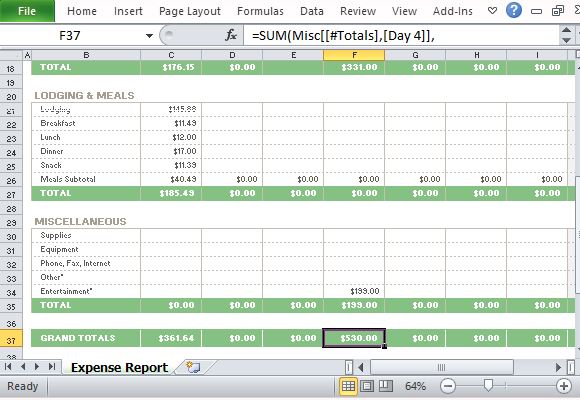 To further customize to your own needs, simply modify, add or delete categories according to your specific spending habits or financial activities. For example, if you are using it for your home, you can change the categories into Groceries, Maintenance and Repair, Automobile, Travel, Utilities, and many more.