Sometimes as a presenter you need something mind blowing. An image can be a powerful tool to get your message across, and this is why an abstract presentation template with high-resolution images can be quite a powerful tool to use when it comes to making gripping presentations. The Free Color Smoke PowerPoint Template is a beautifully designed template that can help you make your slides powerful!

Send a Powerful Message to an Audience
The abstract image of a man sending a smoke signal at dusk is a gripping image. You can use this backdrop to get your message across to an audience by emphasizing on aspects such as the need to act, to convey a sense of distress, as well as to invoke hope and passion. This general-purpose PowerPoint template can be used in a variety of ways for a number of topics by simply customizing the sample slides.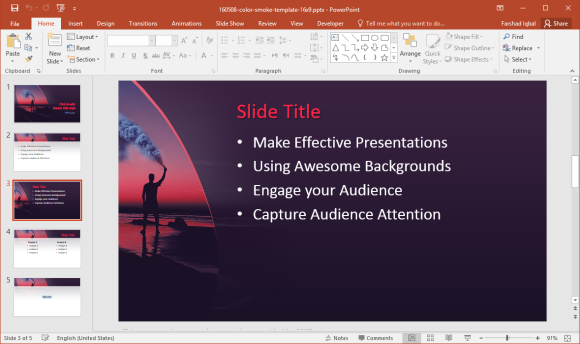 Stunning Background Design
You can edit the layouts and add additional content to customize the slides with the smoke signal image. Some slides provide more white-space than others to help you add more content to slides. The template has standard five slides with some basic layouts which you can change according to need. You can also dig into the Layouts menu to see what other default layouts are available for you to use.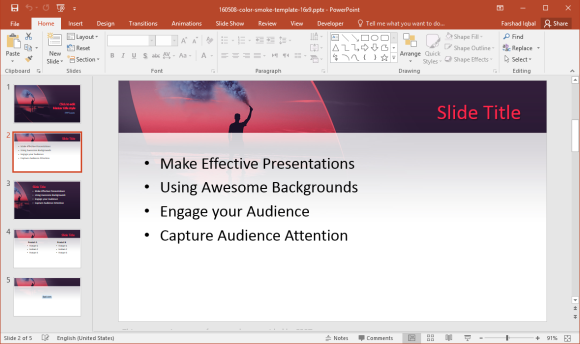 Needless to say, you can add charts, diagrams and other types of content such as HD images to make your slides more interesting. The template is free to download from FPPT, along with a collection of thousands of other templates that you can search and download from the website. FPPT currently has an archive of more than 10,000 free PowerPoint templates.
This is a PPTX template which is compatible with PowerPoint 2007 and later versions.