There are many business PowerPoint Templates that are great for management presentations as well as in creating detailed business project plans and timelines. These types of PowerPoint presentations can be used to present to stakeholders and potential investors, or to present to your team to brief them about your project. 
The Free Business Project Plan Presentation Template is a professionally designed template that provides a clean outline of your project plan. This template works best with PowerPoint 2013, but is also compatible with earlier versions such as PowerPoint 2007 and 2010.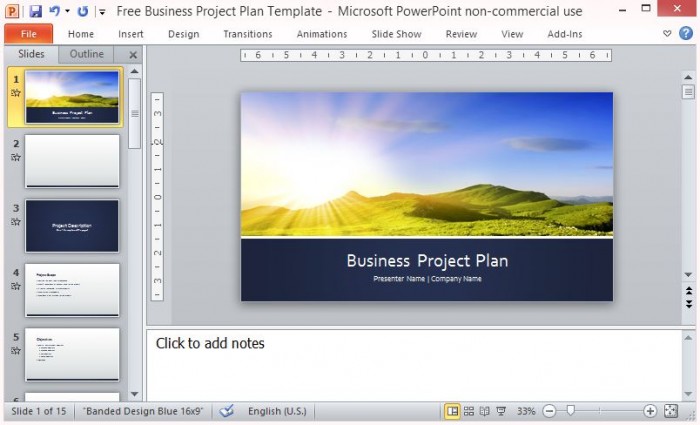 This Business Project Plan Template for PowerPoint can be used to convince your management or stakeholders to back your business projects. This presentation template helps you create a well-crafted and detailed project plan that clearly states your objectives and the direction you will take to reach your goal.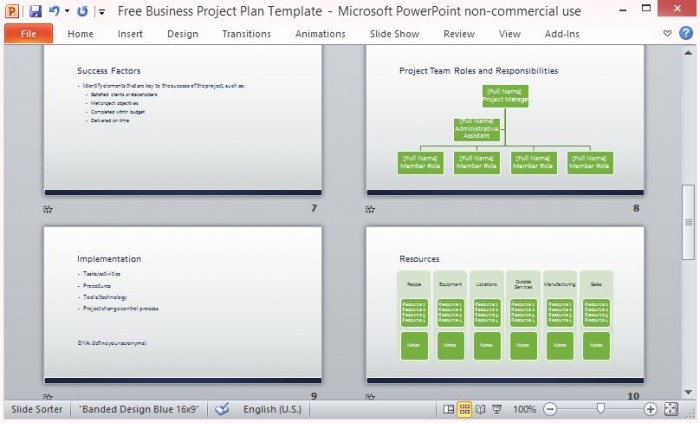 This project plan template is conveniently outlined for you to create an organized and cohesive plan, with content divided in 15 uniquely designed sample slides which include:
Title Page
Project Description
Project Scope
Objectives
Deliverables
Success Factors
Project Roles and Responsibilities
Implementation
Resources
Cost Analysis
Project Schedule and Milestones
Risk Management Plan
Quality and Performance Management Measures
Appendix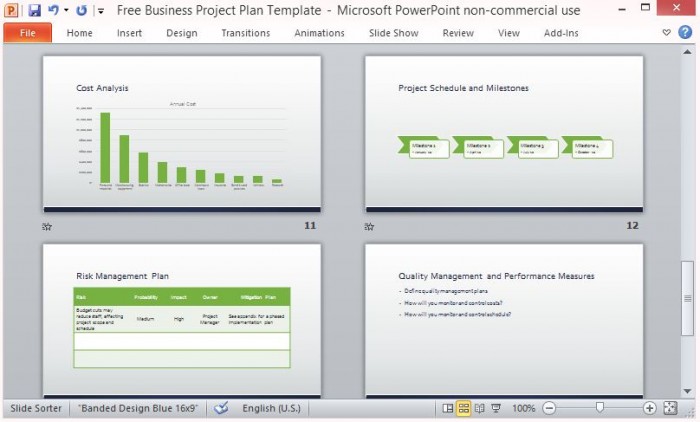 With this template, you can also add slides with dashboards and timelines, depending on the information you want to present to your audience. This standard project plan template is highly customizable and flexible. You can also change the formatting to make this presentation template adapt to your company colors or to the project itself. The graphics can be easily modified to visually and attractively display your data in a more appealing format and to avoid a text-heavy presentation that could potentially bore any audience. This template is designed basically to be informative and to be convincing while being aesthetically pleasing as well.