Designing a brochure is no easy task, luckily the Microsoft portal offers various brochure templates to help you create brochures in PowerPoint. You can use these brochure templates for making printable brochures and presentations.
Business Brochure Template for Making Printable Brochures
Compatible with PowerPoint 2013 and earlier versions, this brochure template is quite suitable for making professional looking business brochures.  The template provides printing instructions on the left side of the sample slides and also offers tips in the form of sample text in placeholders to give you an idea of what might be the utility for each section.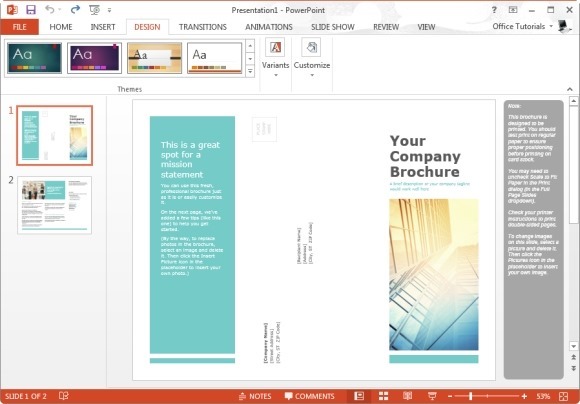 Easy to Customize
You can add your company's basic information by editing the sample text and customize your slides with the help of basic PowerPoint features. For example, you can choose various themes to customize the look of the brochure, add your own logo, replace the sample images, add additional text boxes, add shapes, etc.
This brochure template is compatible with PowerPoint 2013 and older versions.
Go to Download Business Brochure Template for PowerPoint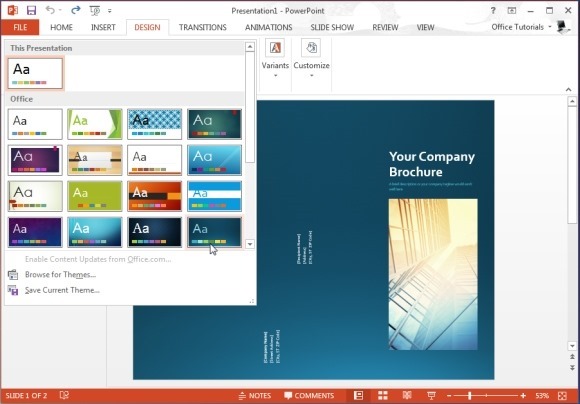 Download Free Brochure Templates for PowerPoint
To download more brochure templates for PowerPoint, simply go to the link given below. You can search for templates by keyword and try various keyword combinations to find relevant templates at the Microsoft templates portal. For example, searching for a brochure template can be performed by simply using the keyword 'brochure' in the search bar. You can also try other combinations like 'business brochure', 'brochure templates', etc.
Go to Download Brochure Templates for Microsoft PowerPoint