Billboard images can serve as interesting opening slides, especially when you are presenting a topic related to marketing, advertising, sales, etc. If you need a good billboard template, then here are a few suggested Free Billboard PowerPoint Templates you can download for free.
Free Wooden Billboard PowerPoint Template
This free PowerPoint template has two slides, one with the image of a wooden billboard and the other is a blank slide with a plain brown and white design. You can replicate the opening slide to create a complete presentation with various billboard signs reading out your content. The billboard design has been created in such a way that it can easily accommodate text-heavy content.
The wooden board design also makes it possible to use this template for topics other than finance, business or marketing, such as subjects related to the environment, national parks, preservation, wild life, etc.
Go to Download Free Wooden Billboard PowerPoint Template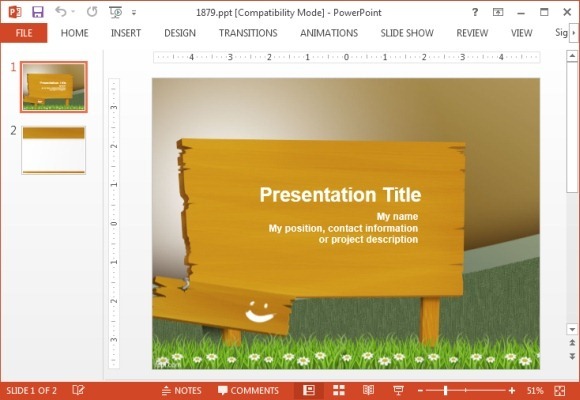 Free Billboard PowerPoint Template
This is a simple template with a minimalist design which shows a white billboard with black text. You can use this as an opening slide or even in multiple slides, to use the billboard image to display your content.
You can also add images within the billboard or insert graphs to make your content standout.
Go to Download Free Billboard PowerPoint Template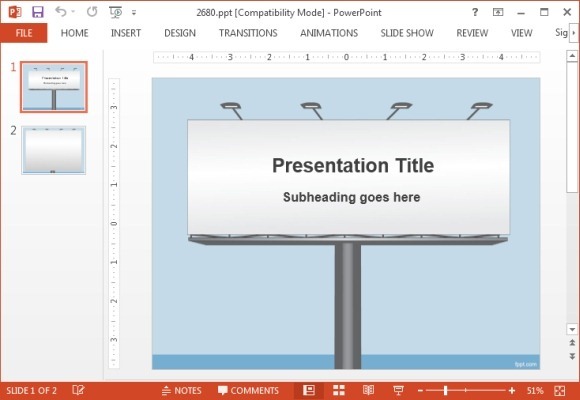 Word Cloud Billboard PowerPoint Template
This template is called the 'Eurozone Crisis' and it depicts a word cloud with various words which reflect upon the European financial crisis. The word cloud in the opening slide is not editable, however, you can make good use of the slides that follow, which come with layouts that allow making bulleted lists, graphs, comparison slides and more.
In case you would like to generate your own word cloud in Office applications, then see this post about how to automatically generate word clouds in MS Word and PowerPoint.
Unlike the two templates mentioned above, this free billboard template provides 5 sample slides with different layouts. The digital billboard design makes the template ideal for reflecting upon topics related to economics, finance, banking, etc.
Go to Download Word Cloud Billboard PowerPoint Template