If you are involved in shipping or freight, a Bill of Lading will be a familiar document. A Bill of Lading is a document that is usually signed by a carrier or transporter of products or goods and issued to a shipper. This document serves as proof that the goods are received for shipment to a recipient, a specified designation or person.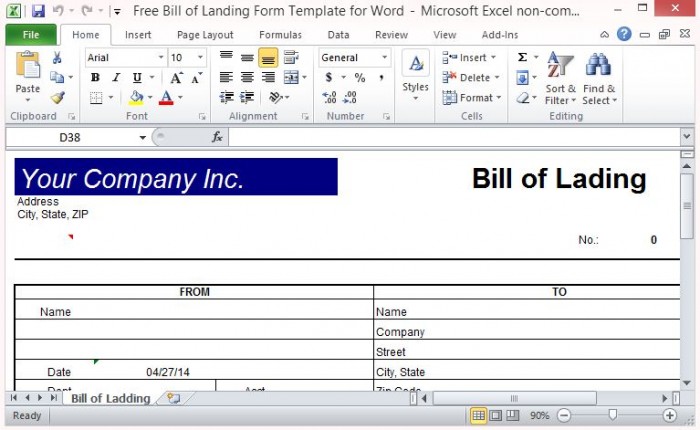 Whether by ship, plane, or any other mode of transportation, carriers usually issue bills of lading. Among various free forms for Excel provided at Office.com, there is an Excel template that conveniently provides all the necessary information and provisions for an official bill of lading, the Free Bill of Lading Form Template for Excel.
The Free Bill of Lading Form Template for Excel helps you prepare copies, in duplicate or triplicate, of a bill of lading as proof of shipment and delivery. You can fill out this template by printing in out in a letter-sized paper, or by typing in the information in the worksheet itself. Either way, this template is printer friendly and allows you to create multiple copies to accompany the goods through the shipment, to be kept by the shipper, and to be given to the carrier as proof of the delivery.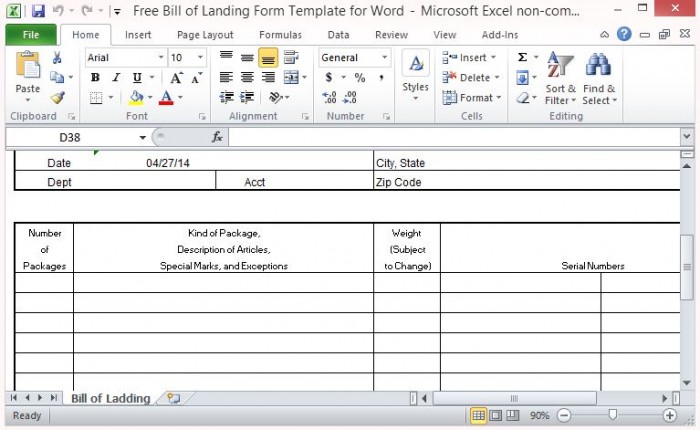 This bill of lading form template helps you describe the freight details, with the From and To information. Also, on top of the bill of lading template is the name of your company and your address. Another information within the form is a table that describes the package or goods to be shipped. It indicates the Number of Packages, the Kind and Description of the Articles within the Package, Any Special Marks and Exceptions, Weight, and Serial Numbers.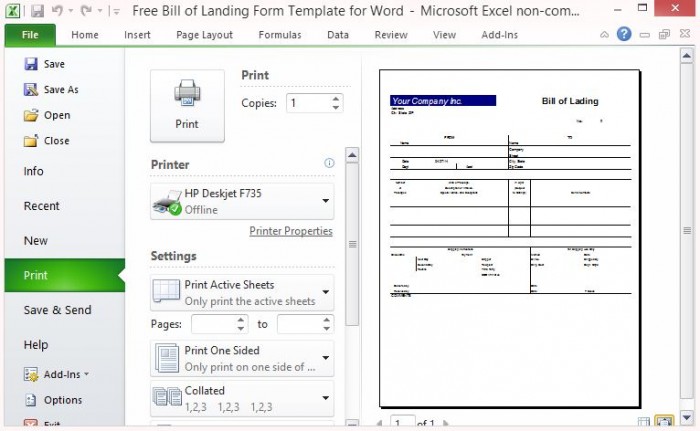 The bill of lading form template also lets you specify shipping instructions, which is helpful for urgent shipments, or for shipments of fragile articles.  There are check boxes to indicate Shipping and Payment Instructions, as well as Method, Bill No., Shipping Cost and the Person or Company who Delivered the goods, and when it was delivered. It also has space for the signature of the recipient and when it was received. There is also enough space for any comments the carrier may have regarding the shipment.