There are many tips and tricks to make presentations engaging and interactive for your audience. You can use many techniques to make your presentation look professional and uncluttered. Aside from making each slide sell an idea, it should also tell a story so that your audience will be interested to learn and get something from your presentation.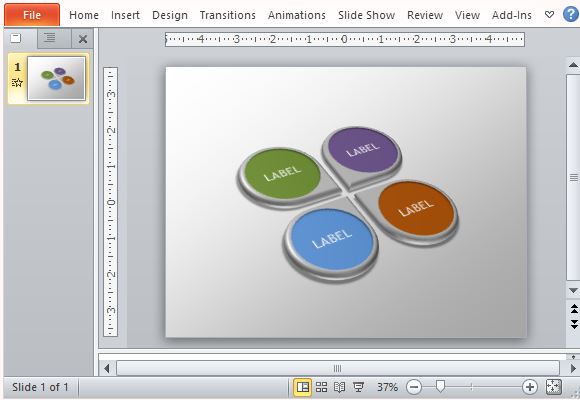 Get Lucky With This Design
You can use graphics and animations to not just serve as decoration to your slides but to also convey your story or idea much more effectively with them. Be careful and use them sparingly and thoughtfully so as not to overcrowd your deck and distract your audience from your topic.
The Four Part Teardrop Graphic PowerPoint Template is an effective tool that is exactly what you are looking for in getting your message across to your audience. It uses an image of four teardrops connected together to form another shape, which is that of a four-leaf clover. This free PowerPoint Template intelligently conveys ideas in ways that long, heavy lines of text cannot.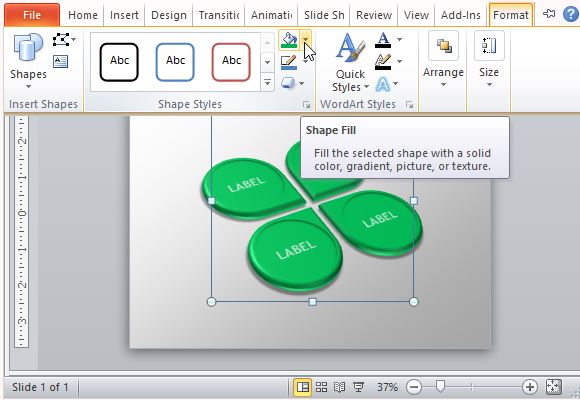 Great for Beginners and Even Advanced Users
This Four Part Teardrop Graphic PowerPoint Template is a standard and general-use template for many types of presentations covering diverse topics. It can be used for school projects, project management, and even St. Patrick's Day celebrations. This template allows you to tell your story in a highly visual way.
The template is an advanced PowerPoint design but anyone, even those who are new to PowerPoint, can easily incorporate this into their own presentation. The template is best for PowerPoint 2010 yet is still compatible with earlier versions.
You can insert this slide into an already existing presentation or build your presentation around this template by adding new slides. The design is simple and universal. It has a solid gray, gradiating background that you can change depending on your preference. Simple go to the Design tab in the Ribbon and choose the background color and design that you want.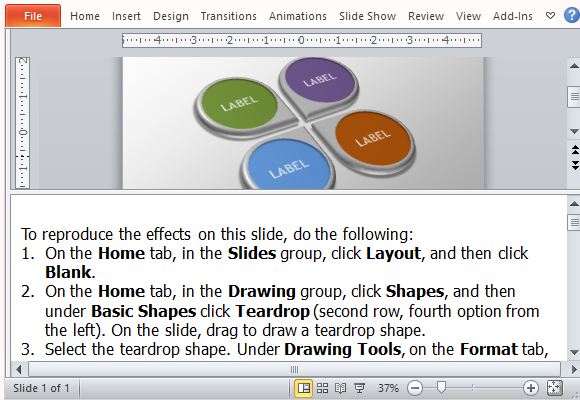 The same goes with the clover-leaf, teardrop design. You can change the colors of the multi-colored circles inside each teardrop. Label them according to your own content. If you want to reproduce the effect and design, however, you can also do so by following the instructions that conveniently come with the template, in the Notes pane.
Go to Download Four-Part Teardrop Graphic PowerPoint Template