If you are in the food business, then you know that people are always up for sumptuous-looking food. Nothing else can drive their attention to you than the sight of delicious food. So if you want to captivate your audience or make them crave for a taste of your food, then you would need to create presentations that are all about talking to the tummy and tingling the tastebuds.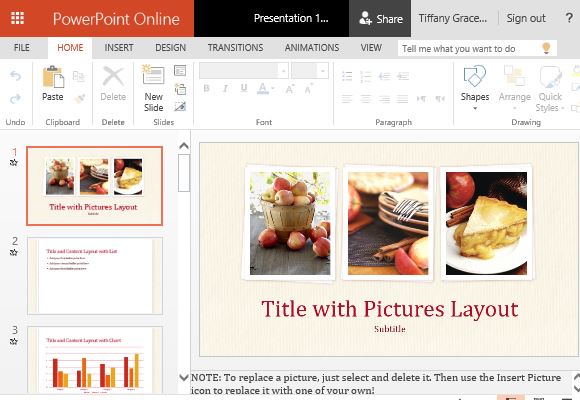 The Food Presentation PowerPoint Template is the perfect presentation template for anything that has to do with food, cuisine, food service, food preparation, catering, and nutrition. This template is a PowerPoint Online template that has vivid and attractive images of food items that will be perfect for food seminars, menus, and discussions.
A Sumptuous Feast for the Eyes
This template features a clean layout that will make your food stand out. The background is in a plain light color while the text is in red. There are sample images in the cover slide, which you can change for your own photos, as you find necessary for your presentation. You can also modify various aspects of the template such as Style, Design and Theme to suit your own personality or brand.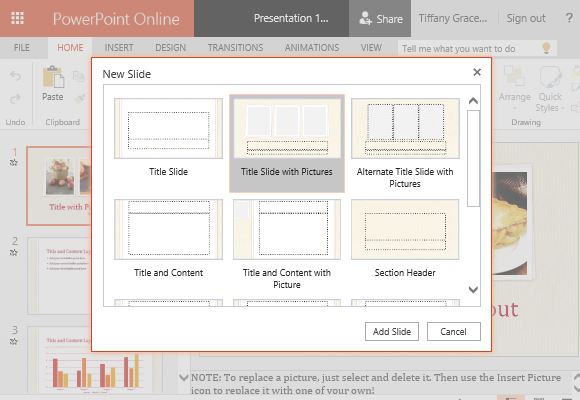 Collaboration is as Easy as Pie
This food-themed template contains 16 slides in total, and each one contains a different layout to give you options on how to present your data in a visual, creative and logical manner. These slides all maintain an elegant and professional looking style that allows for many applications.
The layouts, meanwhile, allow you to present your information in the form of tables, charts, diagrams, photos, text, and list, whichever you need to present information such as recipes, nutrition facts, ingredients, nutrition comparisons, and many other.
And because this food presentation template is in PowerPoint Online, you will find it very convenient if you are on the go all the time or travel a lot. You can easily open this template straight through your browser using your OneDrive account in the Office Online portal.
You can use your phone, tablet, or any other computer to access the template and make changes to it. You can also easily share the template with a team or with other people to make it easy for you to collaborate and share.