An expense report is necessary for any business or organization that have employees conduct projects or go out on business trips. An expense report ensures that the company's money is spent well and is accounted for. And, like with many other company or business documents and business forms, an expense report must be detailed and uniform across all employees and departments within the company. This would make the report look professional while showing the company's theme.
The Office portal has many report form templates and one of them is the free Expense Report Form Template for Excel, which we will review in this article.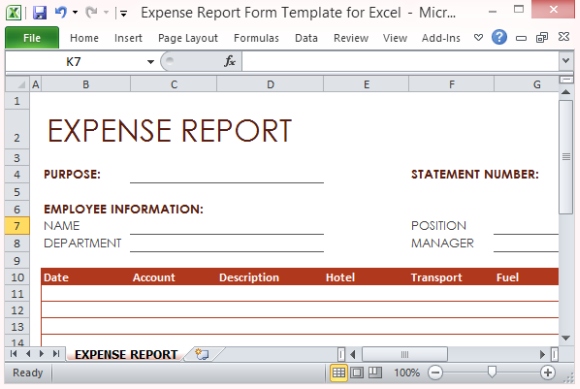 The Expense Report Form Template for Excel is a printer-friendly form that employees can use for recording their expenses for reimbursements. While can be printed out in multiple copies, this form can also be filled out in the computer, where you can take advantage of additional features such as automatic computations of your data as you type it in. This template is ideal for generating free forms for calculating and tracking business expenses.
This expense report form contains spaces for your Purpose, Statement Number, Pay Period and Employee Information. The Employee Information includes Name, Department, Position, Manager, Social Security Number and Employee ID Number.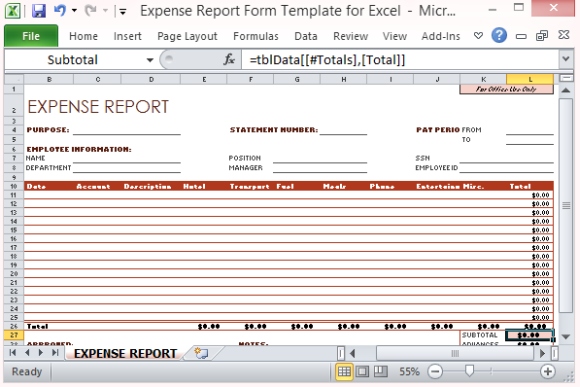 Underneath is the Expense Report itself, which contains the Date and the various expense categories. The Expense categories are: Account, Description, Hotel, Transport, Fuel, Meals, Phone, Entertainment, and any Miscellaneous Expenses. These categories can be modified for your own company's usual expenses. The far right of the table, on the last column, is the Total, wherein you can see your expenses for the day automatically calculated.
This free expense report form also has a row dedicated to Total amounts for each category and a subtotal for all the Expenses incurred by the employee. This subtotal is set against any advances, therefore coming up with the Grand Total, which is located at the very end of the table.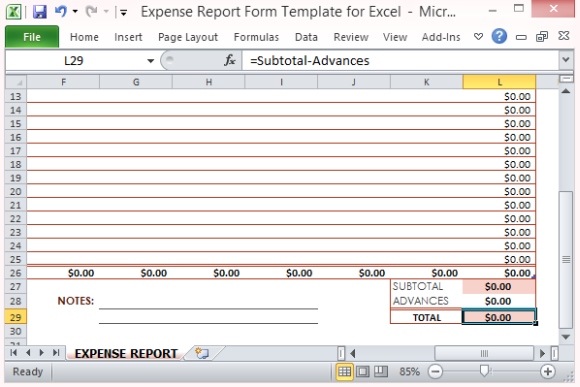 There are spaces for approval of the Manager, which then would allow the expense report to move forward for reimbursement. Any Notes can also be written in the space provided at the bottom of the form.