If you work in industries such as travel, hospitality, tourism, and other similar fields, then you know that there is a lot of opportunities for you to create presentations. Of course, your presentation should match your topic and your industry. You would want to tailor your slideshow design to your audience as well as the message you want to convey, which is about travel, leisure, tourism, and adventure.
No More Boring Generic Themes
You can say goodbye to generic themes. The Expedition PowerPoint Template for Travel Presentations is a simple and elegant template that is perfect for travel, vacation or adventure themed presentations. You can use this template for your next vacation, or showcase your company's best tourist attractions, as well as flaunt your country's natural wonders.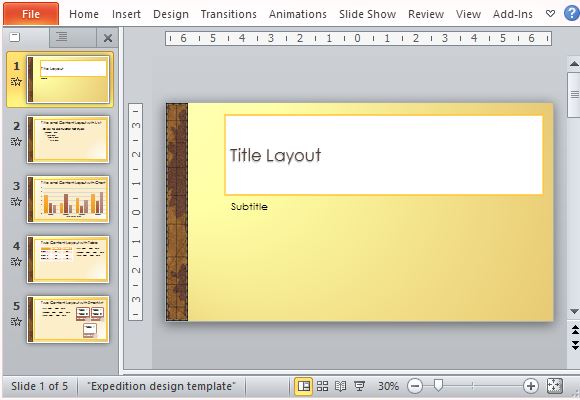 This Expedition PowerPoint Template for Travel Presentations features a bright yellow background with an old world map design on the left hand side of each slide, serving as a subtle border. The theme of this presentation template involves the colors brown, tan, yellow and cream to match the world map design, and giving the whole presentation a cohesive, put-together look.
Professional Layouts for an Impressive Look
This PowerPoint template also features five slides that contain different layouts to allow you to present your data in various creative ways. You can present your data in the form of lists, tables, charts, and SmartArt diagrams. This will allow you to tell a story using a highly visual format, without the use of more slides that are otherwise full of lengthy boring text.
These layouts are professionally done to match the theme of your slides while conveying your message and data in a short and visual way. You can opt to add new slides, duplicate existing ones, or even delete them depending on how you want your presentation to go and look.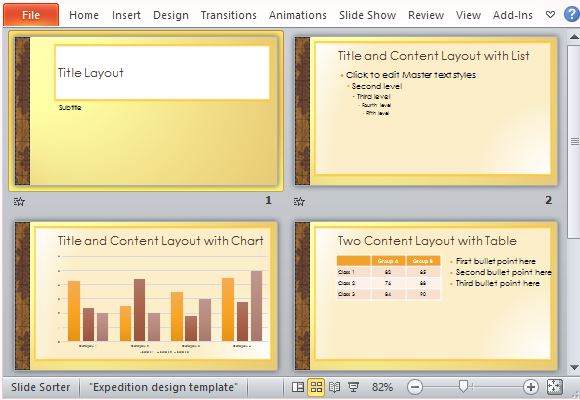 Use for Scrapbooking and Photo Albums
This Expedition PowerPoint Template for Travel Presentations starts with a cover slide that clearly displays your presentation title and immediately tells your audience what your presentation will be all about. The inside slides contain a light tan or cream overlay to make your content stand out and not be overpowered by the design.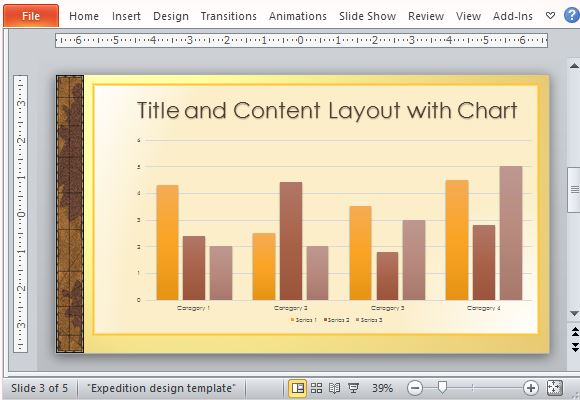 Aside from business, this template can also be used in school, such as in presentations in geography and countries of the world. Likewise, the template can be for personal use, such as in vacation plans or in travel scrapbooks or photo albums.
Go to Download Expedition PowerPoint Template for Travel Presentations