As a landlord, you may have several responsibilities and duties that you need to meet with your tenants. In cases of eviction, it can be difficult to tell your tenants that their families should move out of their home. There are also legal requirements that need to be followed, as well as legal obstacles that need to be taken care of. Whatever the reason for eviction, however, an eviction notice is always important.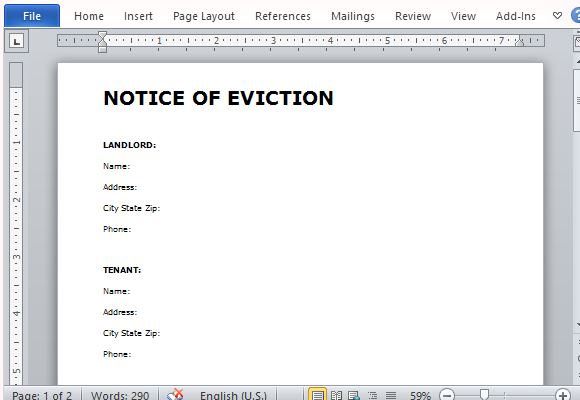 The local government, or even the sheriff, approves an eviction notice, ensuring that the tenets fall within the law and the notice is fair to both parties. This Eviction Notice Form for Word is a ready-made template that you can use to ensure that you yourself are not violating any laws and have a detailed notice to serve your overdue tenants.
Issuing an Eviction Notice is the first step to the eviction process. Using free forms can help you craft an appropriate notice and this template is perfect to help make the process much easier for you, as it provides you a detailed template that you can create as a standard for your business. The template contains all the necessary information about the landlord, the property, and the tenants.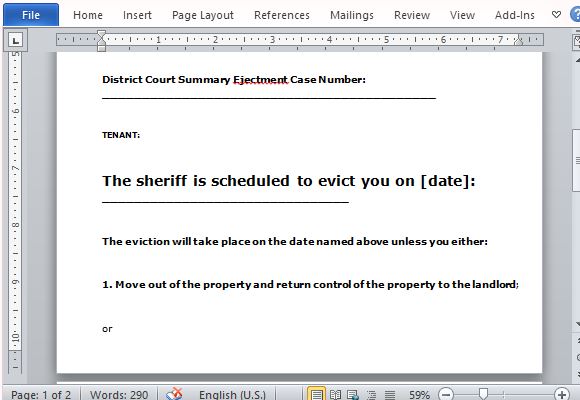 The Eviction Notice Form has two pages, and shows formally and directly the details on when the eviction will take place unless the tenant either moves out of the property or pays the outstanding dues. Each of these choices have conditions and additional information which are also elaborated in the template.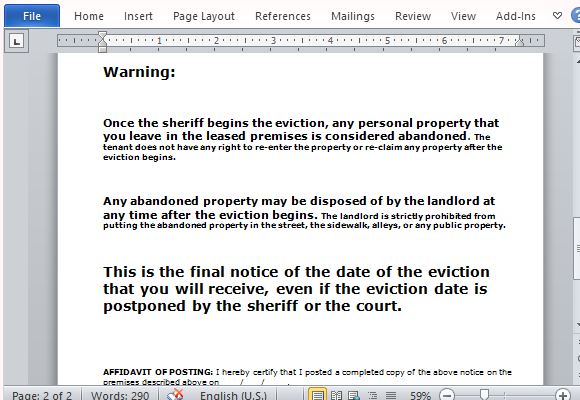 This eviction notice template for Word also lets you issue a warning to your tenants so they will be aware of their rights and responsibilities once the eviction takes place. This will ensure that the rights of both parties are protected and no laws will be violated by either parties.