Having an effective scheduling and attendance record system for your employees ensures that you are making the most out of your manpower throughout any given workday. This is vital when it comes to maintaining smooth operations in a company or business, such as in restaurants and offices. However, acquiring an employee schedule tracking software can be very expensive and for a small company with just a handful of employees at a time, it can be an unnecessary expense.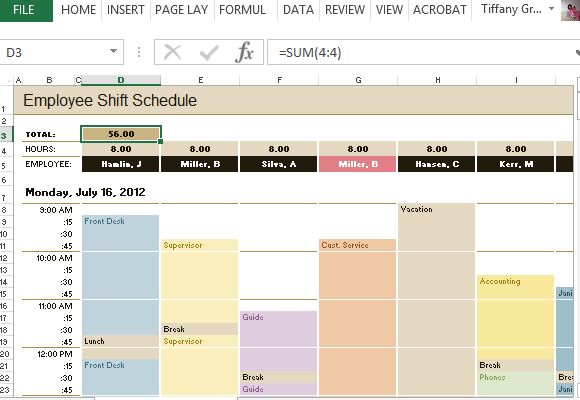 The Employee Time & Increment Calculator can help you cut your costs in employee time management as well as help you be on top of your company and your employee's schedules.
The template is versatile and can be used for many industries and businesses, for establishments that range in different numbers of employees, from two to two dozen or more.
Versatile and Easy to Use
This Employee Time & Increment Calculator is preset for an office set up with eight employees performing various tasks. These are supervisor, front desk, guide, customer service, janitor, and many more. These designations can be changed and customized to suit your own business employees.
Using this free Excel template, you can set the schedule of each of your employees, ensuring that each of them are maximized throughout your business or operations hours.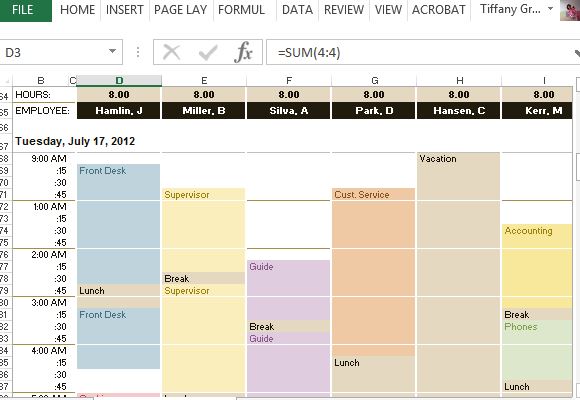 Easily Schedule Your Employees
The template contains tables that contain every day of the week. Here, you can plot the schedules of your employees within a given time frame, which is broken down in fifteen-minute increments. The template starts from 9am to 9pm, but you can change this depending on your own time of operations. You can assign different colors to each of your employees for easy identification. This way, you can see which employees are on time, loaded with work, late, absent, or on vacation at any given period or day. This also allows you to easily identify any gaps in your work schedule and fill it with the right person for the job.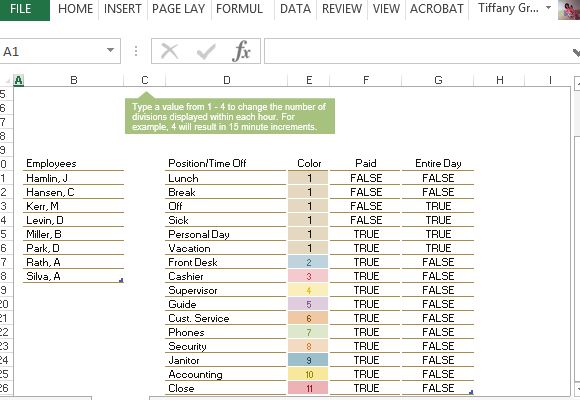 There is also a section in the template that shows the total hours worked or absent by each of the employees within a given day or time period, making it useful for performance evaluation and payroll purposes.
Go to Download Employee Time & Increment Calculator for Excel