Employee resignation acceptance letters are not uncommon and are in fact inevitable. Whether you are a business owner, manager or in human resources, you will encounter employees deciding to resign or leave the company for a variety of reasons. Resignation letters are often brief and professional, if not impersonal. Companies, in return, respond to the resignation letters by way of a resignation acknowledgment letter.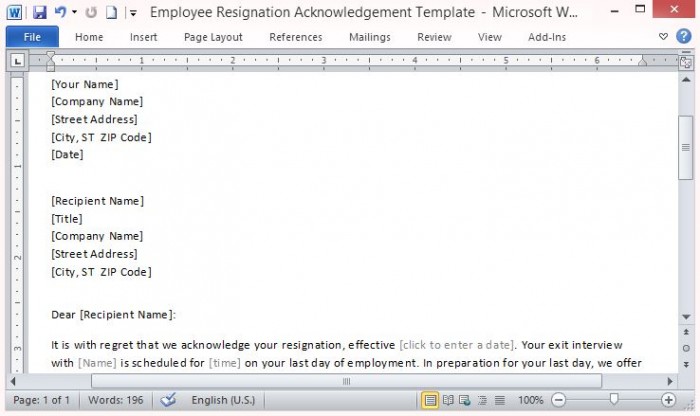 This Employee Resignation Acceptance Letter Template for Microsoft Word is a business letter template to help you in composing a well-written resignation acknowledgement letter. This letter template not only officially acknowledges an employee's resignation, but also gives confirmation for their last work date and other details.
This free resignation acknowledgement letter template is standard. Like any business letter, this template contains the address of the sender which is the company or the human resources department; the date when the letter was written; the inside address or the resigning recipient's address; the salutation; body of the letter; closing remarks; and the sender's name. The body of the letter contains confirmation of the employee's resignation, details of the final paycheck, exit interview, and other paperwork that needs to be filed by the resigning employee.
Note: To download this and other free templates for Microsoft Office see the link given at the end of this post.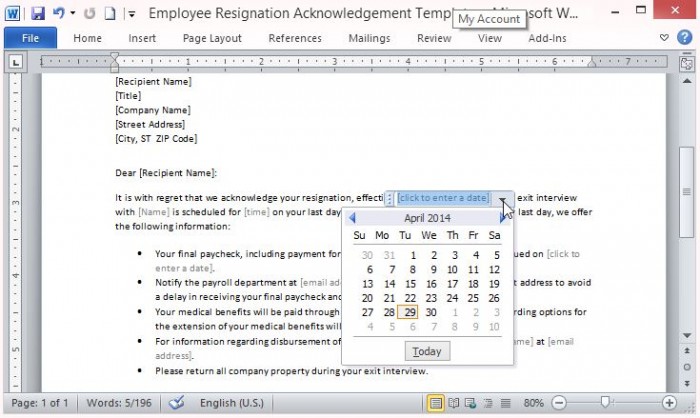 This standard template can still be easily modified to suit your company's needs and preferences. You just need to fill out all the information enclosed in square brackets to complete all the necessary information and change the format to suit your company's letterhead style to make it uniform with the rest of your company's letters.
Go to Download Employee Resignation Acceptance Letter Template for Word