Weddings are one of the grandest, most important occasion that can happen in one's life, whether you are a bride or a groom. Planning for the event and preparing everything would take months of focus and work. And in such a big and momentous occasion, you would want to share it with the people that matter most in your life.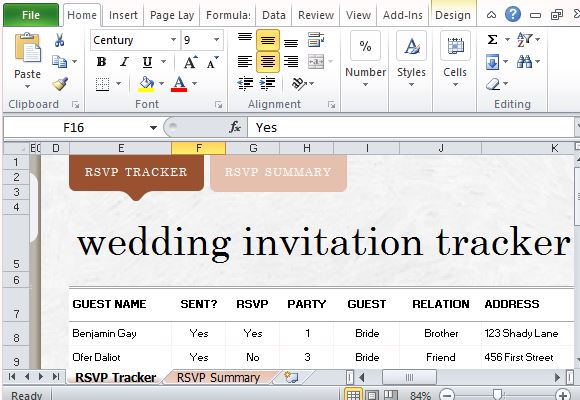 With the wedding preparations as nerve-wracking for any event planner, wedding planner, or the bride and groom, it would be a huge help if there are ways and tools that would make the preparations so much easier. One such tool is the Wedding Invite List.
Create an Organized Wedding List
This Wedding Invite List Template for Excel is a handy template that you can download for free so you can create a beautiful list of guests for your wedding ceremony. Whether you are planning a big or small and intimate wedding, you would find this tool a delight. With this template, you can keep track of the people you have invited to your big day and see who has or has not RSVP'd.
The Wedding Invite List has an elegant look and theme that make it perfect for weddings. The design is like that of a wedding invitation itself, yet provides all the functions that you need to make your wedding preparations a breeze.
Related: Download Free Office Templates from our list of reviews for Wedding Planning Templates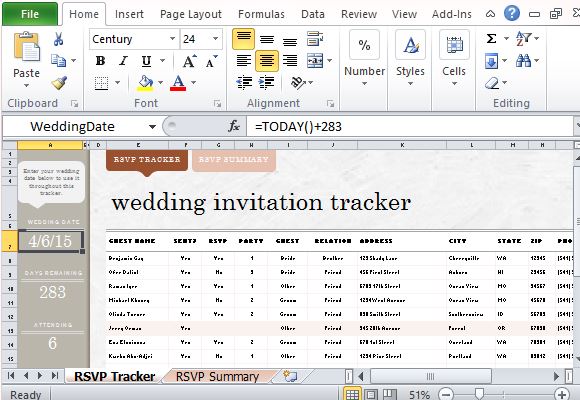 Make Sure Everyone Comes to Your Special Day
This Wedding Excel Template contains two worksheet tabs, the RSVP Tracker and the RSVP Summary. In the RSVP Tracker, you can put your wedding date and have a countdown displayed on the worksheet. The left pane easily shows you these details, as well as the Attending, Not Attending, and Outstanding invites. The table beside it shows a detailed list of your guests. Here you can track if you have already sent them invitations, if they already RSVP's, how many they will bring with them, how they are related to the bride or groom, and of course their contact information.
The RSVP Summary is expertly designed to give you a visual of the status of your guests and invitations. In this worksheet tab, the left pane is still present for reference. This tab shows you a graph so you can see just at a glance how many guests have said 'Yes' and 'No" to your invitation.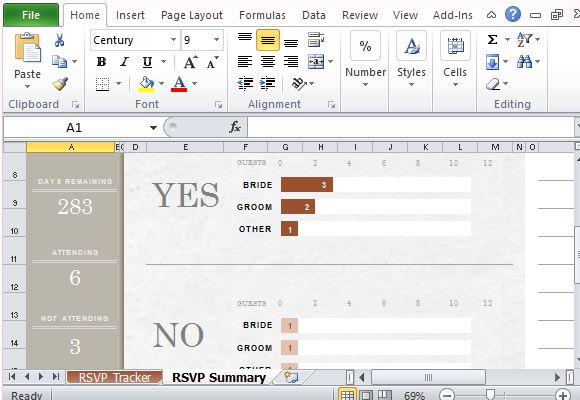 This Free Excel Template works best with Excel 2013 but can also be used with earlier versions like Excel 2010 and 2007.