The term "due diligence" pertains to the general duty of an individual or business entity to exercise care before going through with any transaction. In business, it is done to investigate and evaluate a business opportunity. Due diligence involves looking into the past and present as well as analyzing the future of the business of a target company.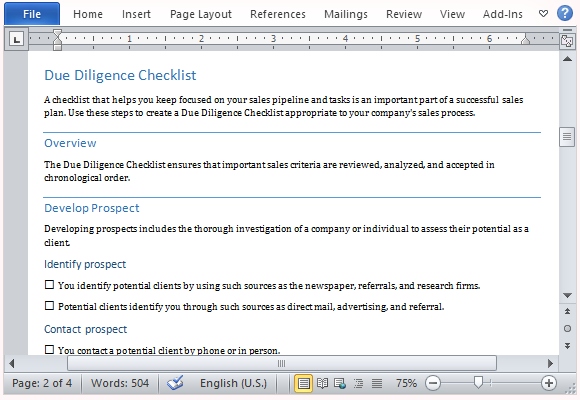 Companies involved in sales sometimes conduct due diligence to see the potential of the prospect as a client. For this, the Microsoft Office portal among its collection of free templates has a Due Diligence Template for Word that you can use. This Due Diligence Checklist for Sales Process template will help you create a checklist of important sales criteria for review, analysis, and approval. This Due Diligence Checklist will help you keep your standards while focusing on your sales pipeline and tasks.
This free Word template is designed with a modern, minimalist and streamlined theme. This gives your document a professional and clean look so you can focus on the important information and clearly read all the details.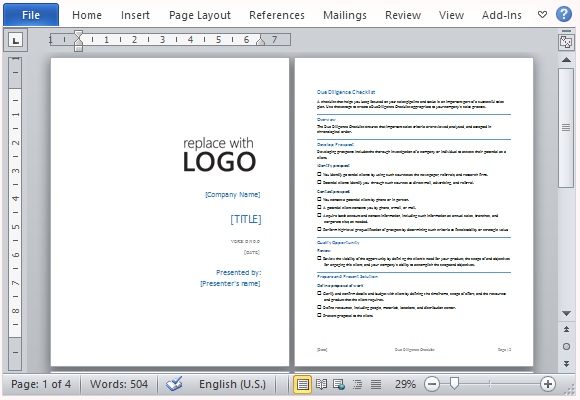 This four-page template contains a title page where you can easily insert your company logo. It also displays your company name, document title, presenter's name, date and version.
The inside pages are already organized to make filling out the right information easy. The information is separated into headers for a cohesive and organized Due Diligence Checklist. It contains an Overview, Develop Prospect, Qualify Opportunity, Prepare and Present Solution, Close, Sample Checklist, Deliver Products or Services, Payment, Customer Satisfaction, and Sample Checklist. This information also make it easy for you to create a PowerPoint presentation based on this template.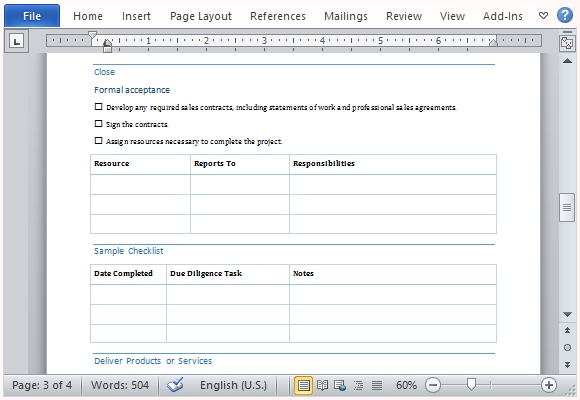 Each inside page of this Word template also contains a built-in footer which contains the name of the document, date and page number. Basically everything is prepared and ready so all you have to do is type in all the information according to the outline provided.
Go to Download Due Diligence Checklist Template for Sales Process