Today, many technological advancements and gadgets are being rolled out on a daily basis all over the world. Meanwhile, we try to always be updated with these technologies and devices in an effort to make our lives more convenient, be more connected to the world, or simply just be technologically savvy. Here, we are going to go over one of the many technology themed free Office templates that you can use for your presentations.
The Digital World Map Template for PowerPoint is a professionally designed template that is made for PowerPoint 2007 and later versions yet is still compatible with earlier versions. This template is free to use and has a global technology theme, with a clean, sleek and stylish design that makes it a standard template for many presentation topics.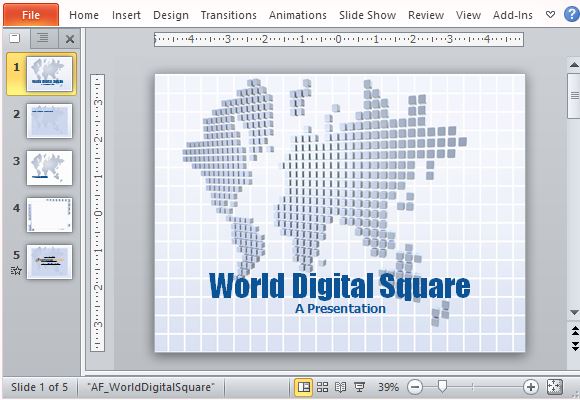 Free and Professionally Designed
This Digital World Map Template for PowerPoint features a stylized design of world continents. It contains large, metallic-blue pixel blocks on a grid that serves as a background of the image. This is the cover title page where you can type in your presentation title or topic in big, bold letters.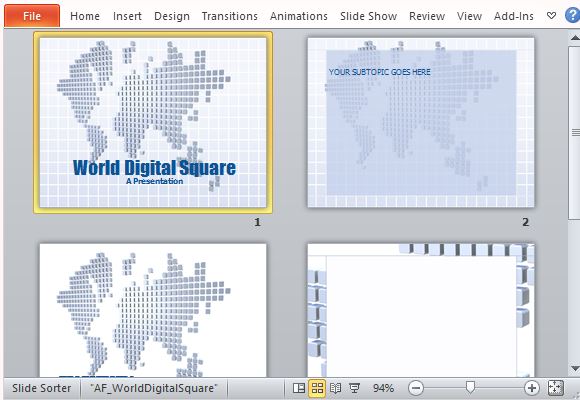 This template contains a total of five slide templates, each with its own specific function. There is a transitional page that you can use to open up a subtopic within your presentation, or as a transition to the next discussion. The template also contains designs that allow you to insert not just text but also graphs, charts, pictures, diagrams, tables, and SmartArt. Each of these slides maintain the digital, pixel and grid design so your presentation will have the same theme throughout.
Easily Customizable
This template slides, although they match each other and are designed a certain way, can still be personalized. You can modify the theme and design to match the presentation that you already have, if you want these slides to augment or add to your topic. You can also personalize slides to complement your company colors or preferences.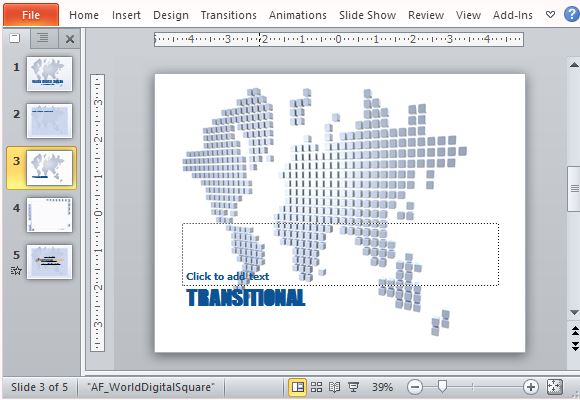 This Digital World Map Template can be used for presentations that tackle topics such as digital age, globalization, technology, world technology, expansion of digital or technology companies, marketing in the digital age, and many more. The areas you can cover using this PowerPoint template may extend beyond technology to science, geography, education, and even business.
Update:
This template is not available anymore, you can check out these alternative map templates instead:
Go to Download Free PowerPoint Map Templates