Almost all businesses today have their own websites and social media accounts. Online presence can help businesses connect and interact with their customers. However, this doesn't mean that giving out brochures is out of style. Until todays, brochures are still being distributed by business establishments like restaurants to directly market their products and services to their market.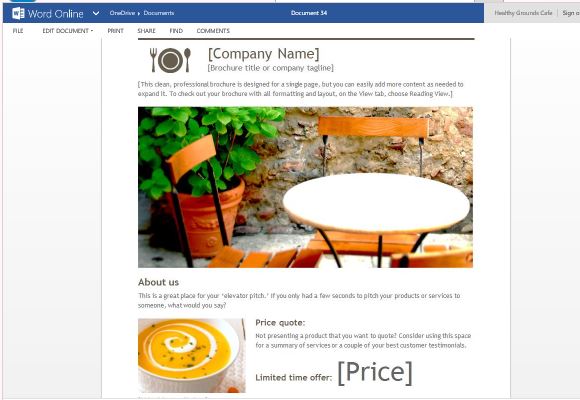 If you're one of those restaurants, cafes, bistros, and other business food establishments that want to invite customers to try out your new menu or simply entice them with your current selection, then you would need an equally enticing brochure design. The Digital Brochure Template for Word Online is an expertly designed template that you can use for your establishment in order to directly market your brand to customers.
Wow Your Customers with this Brochure
This Word Online brochure template is specially created for the food service industry. The layout fits a single page where all the information about your company, products and/or promos are located. It has enough space to feature various photos to showcase your products or location, in order to attract patrons and new customers.
Like other free Microsoft Office Templates at the Office Online portal, this template too has a professional looking, beautifully composed and unified theme. It is minimalist yet elegant. The layout, font styles, and overall style of the template makes it easy for you to customize it for your own business and branding. Even the sample photos can be easily replaced with your own photos without distracting from the brochure's overall appeal and aesthetics.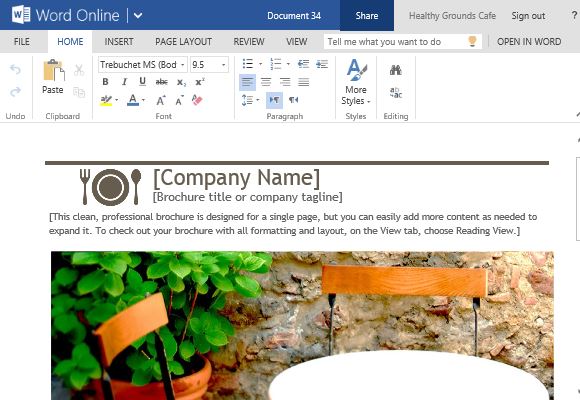 The brochure template contains adequate space at the top for your company name and logo. The plate, spoon and fork image can be replaced with your logo. You can also insert a tagline or slogan under your company name.
Showcase Your Products and Promos
Meanwhile, the layout allows you to effectively highlight what you need to get the attention of your customers. This makes it easier for your customers to see what you have to offer in your store or restaurant, especially if you have any promos or new products. The brochure is even designed to show the sale price as a limited time offer to add a sense of urgency and to instantly draw attention to this offer.
You can also include the product benefits and other exciting offers in the template. The layout allows you to list these briefly to show how you are different and better from the competition.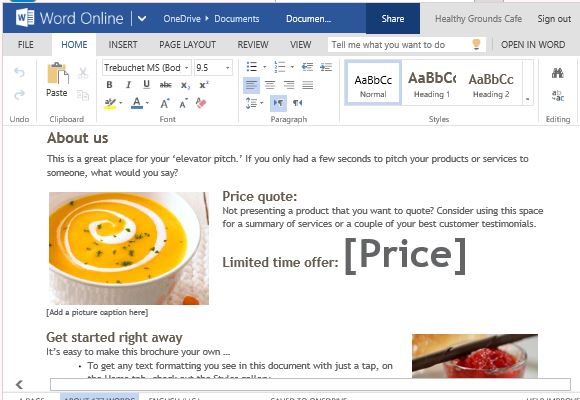 Like many brochures, this template also contains your company information conveniently at the bottom so customers can find out more or even make reservations or orders to your establishment. The Contact Us portion contains your phone number, email and website.