Through the years, so many fad diets have sprung up. Nevertheless, nutritionists, dieticians, and even doctors alike recommend that regular exercise, balanced diet and eating in moderation are all enough for a slim figure or a fit body. Whatever your exercise routine is and however your eating habits are, there is an easy to use template that can help you through your progress, as you try to achieve a more healthier body and lifestyle.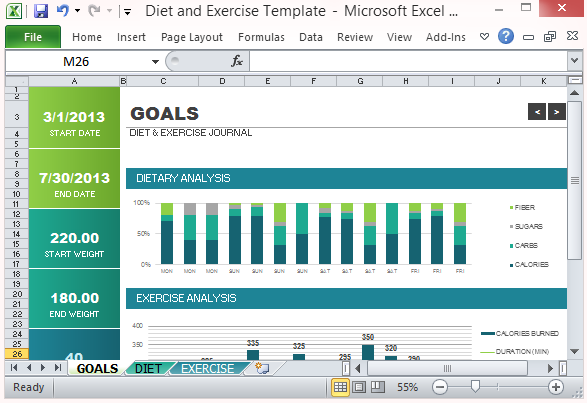 The Diet and Exercise Journal Template is a wonderful Excel template and "health buddy" to help you with your diet and exercise. Whether you aim for a weight loss, weight gain, getting more exercise into your lifestyle, eating healthier foods, or just wanting to get into better shape, this template can help you.
The Diet and Exercise Journal Template is a professionally and attractively designed template that is free for anyone wanting to track their diet and exercise. With the use of the template, you can set you weight loss goal. The template is designed to help you reach that goal while tracking your progress.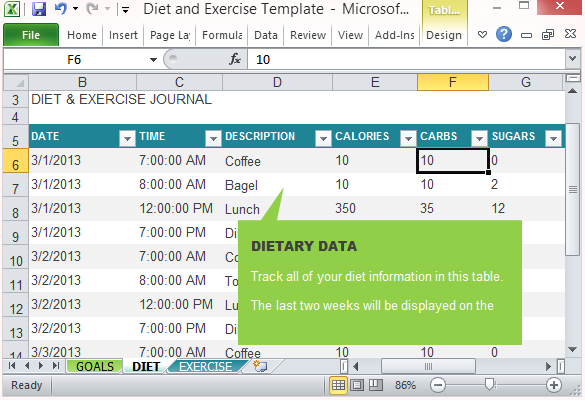 The template comes with a feature that lets you log your daily food intake and exercise data. It comes with a chart that visually shows you how you are progressing over time. It can be personalized for your own use, or if you have a friend, partner, or even client that you want to help with their diet and exercise habits.
All the information you type in the template are linked to the Dietary Analysis Chart and the Exercise Analysis Chart so you can see your progress in real time without having to go over rows and rows of numbers.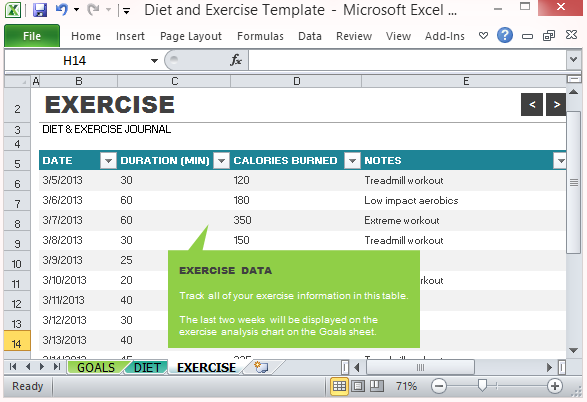 The Diet and Exercise Template contains three tabs, which are Goals, Diet, and Exercise. The Goals tab allows you to type in your start and end weight to compare it when you reach your end date. The Diet tab displays your daily calories, carbohydrates, and sugar intakes. This information is translated into visual format in the chart on the Goals tab. The Exercise tab lets you record all your exercises and the corresponding calories you have burned in each particular exercise or activity. This information is also displayed in the Goals sheet.