As a business involved in interacting with customers to get sales and growth, you know the importance of keeping good customer relationships. Whether you are selling products or services, you need to have a record of all your customers so you can be in touch with them regularly for offers and promos, as well as company updates.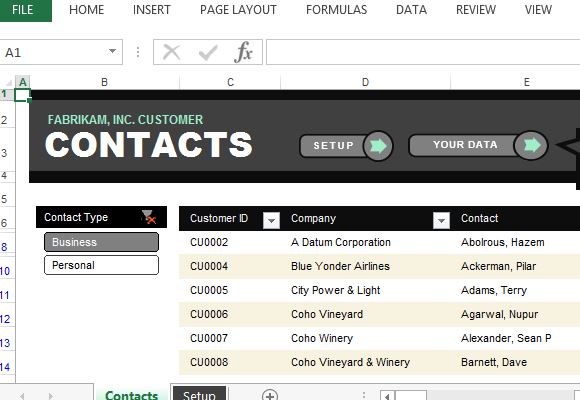 The Customer Contact List Excel Template allows you to conveniently store all your customer contact information completely and in one place. This Excel Template is especially helpful if you are involved in retail and wholesale, sales, direct selling, telemarketing and similar fields.
Comprehensive Contact List
This template contains two worksheet templates. One is for your contact list and another is for setting up your contact list.
The Setup worksheet contains your company's complete address. Meanwhile, the Contacts worksheet contains both Business and Personal contacts, which you can filter as well with the other contact categories. These contact categories are separated into columns for adding Customer ID, Company name, Phone number and FAX, Email address, social media account details such as Twitter, Facebook, LinkedIn, etc.
There are sample entries in the Contacts tab to give you an idea of how your own Customer Contact List will look like. You can just delete these sample entries and type in your own. The customer contact list is comprehensive enough to for companies to contact customers in many ways, through traditional mail, email, and even through social media accounts. This ensures that you are always connected to your customers.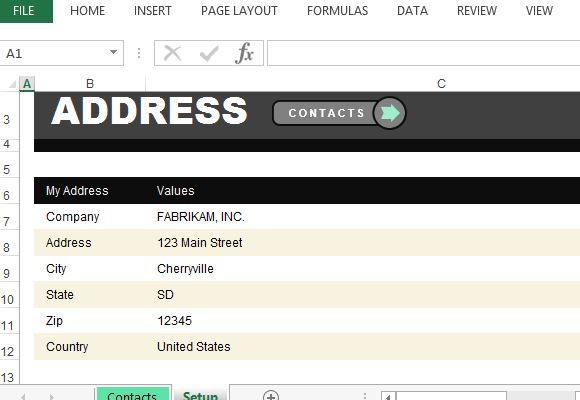 Useful Built-In Features
There is also a sorting feature built into the template so you can filter and sort through your contacts, both personal and business. This way, you can store hundreds, if not thousands of contacts and still be able to find the one person you need to get in touch with.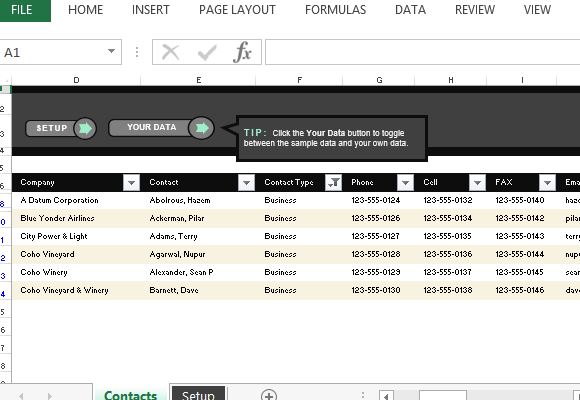 You can also save or upload your own customer contact list to your OneDrive account so you can easily access, view, and update your contacts anywhere you are. You only need to open a browser to go to the Office Online portal or to your OneDrive account.