Whether you are an employee, a part of the senior management, or a business owner involved with transactions from all parts of the globe, you would know the importance of keeping yourself updated with the latest currency conversion. This ensures that you have the best and latest exchange rate to help you keep your pricing accurate, as well as ensure your transactions are smooth and within the right price point.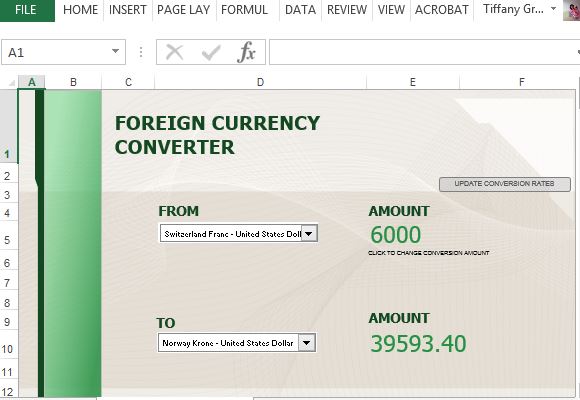 The Currency Converter for Excel is a helpful tool for businesses and companies so that they can easily and accurately convert currencies from different parts of the globe. The currency converter is specially designed to ensure that your calculations come out right all the time, whatever currency you are converting to or from.
Specially Created Conversion Tool
This template is in Excel, with a specially created spreadsheet that allows even beginners to navigate and operate the currency converter. It features a drop-down list box that allows you to choose the currencies that you want to convert from and to. There is also a starting amount that you can type and this amount will automatically be converted depending on the "To" currency you choose.
For example, if you want to convert $100 to Swiss Franc, you can choose the 'From' drop-down the United States Dollar item, and type the amount you are starting or referencing from. Then at the 'To' drop-down, scroll through the alphabetically arranged country names and their corresponding currency to find Switzerland Franc. The amount in the 'To' section will then automatically convert.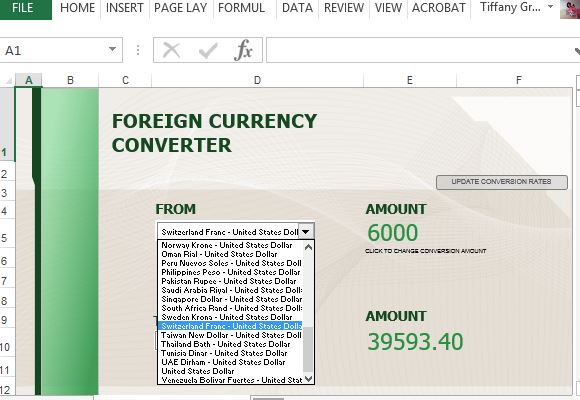 Have Updated Exchange Rates Every Time
To update the currency amounts, you can just click on Update Conversion Rates, which is a button located at the upper right-hand corner of the template. This allows you to always be updated on the right and latest conversions, as the exchange rate always changes.
To get a complete view of the currencies and their corresponding exchange rate, you can go to the accompanying worksheet tab, the Conversion Rates tab.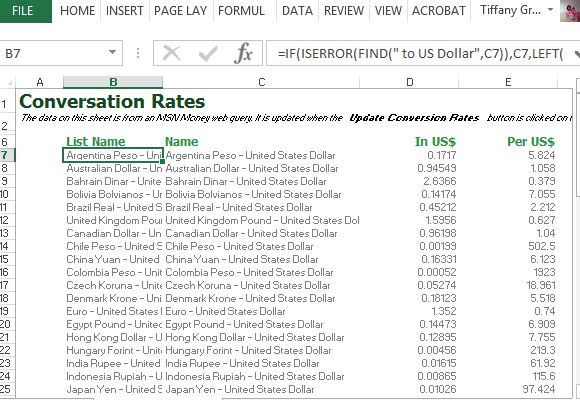 The currencies here are from an MSN Money web query, which updates each time you click the 'Update Conversion Rates' button.