Weddings are momentous occasions that the bride and groom celebrate with their families and friends. Such a big and memorable celebration requires plenty of preparations, such as the wedding dress, entourage, decor, catering, ceremony, and of course, the budget. However, you don't have to spend a lot to have the wedding of your dreams. Having the right wedding plans and sticking to your budget can help. You can also take a look at what you can do on your own so you can save more.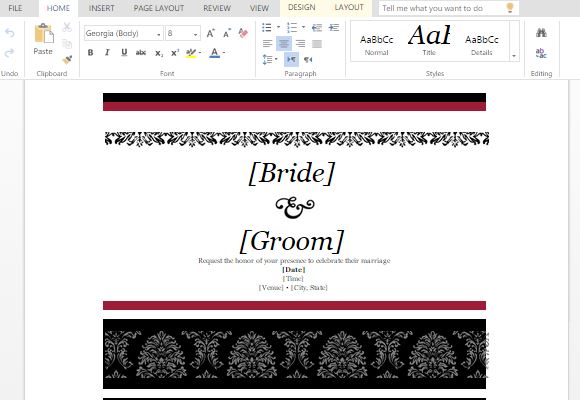 In this article, we will show you how to create wedding invitations in Word so that you don't have to hire a professional for it and instead spend your savings on other things, even your honeymoon. This MS Word template can help you create your very own wedding invitations as if it were in fact created by a professional.
This Wedding Invitation Template for Word is simple yet elegant and embodies the festive and special celebration that is a reunion of two individuals as well as their families. It is the perfect template to let your friends and families know about your wedding and how you would like them to be part of it.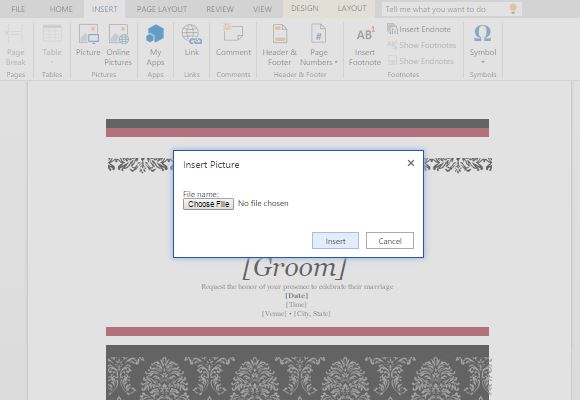 This free template has a black and white damask design and a red accent over a solid white background. It easily suits any wedding theme or motif. It can also easily be modified to suit your own color scheme. You can also change the font styles to suit your own theme and, if you want to change the background color, you can simply opt to print it on colored specialty paper. The fact that you can print as many invitations as you need right at home saves you a lot of funds. You can even ensure you do not have any waste because you can print only just as many copies as you need based on your guest list.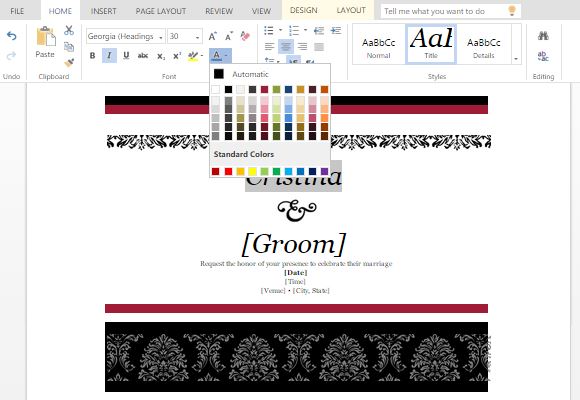 And because this is a Word Online template, you can easily access it through your browser, whether you are using a computer or a mobile device. You can even share your invitations digitally to your guests, therefore saving you more on paper and printing costs.