One of the first things that customers see about your restaurant is your menu. Your menu is one of the most direct marketing tools that you can use to tell your customers about what you have to offer them, as well as what your business is all about. Thus, it is a great idea to make your menus reflect your brand as well as be attractive and highly informative at the same time. Aside from restaurants, menus are also great for hotels, cafes, fast food, parties, catering services, as well as for special occasions.
In this article, we will show you how to create printable menus in Microsoft Word for both business and personal use; with the help of free Office templates.

Festive Christmas Themed Menu
If you have a restaurant or a bistro that offers multiple courses and a wide range of food offerings, you can use this Festive Christmas Holiday Themed Menu Template. This green and red template is perfect for Christmas specials, with its poinsettia borders and textured background. The slightly transparent overlay allows you to clearly display your menu items. The sample text serves as a guide to help you in filling out the menu with your own special Christmas dishes.
Go to Download Christmas Holiday Themed Menu Template for Word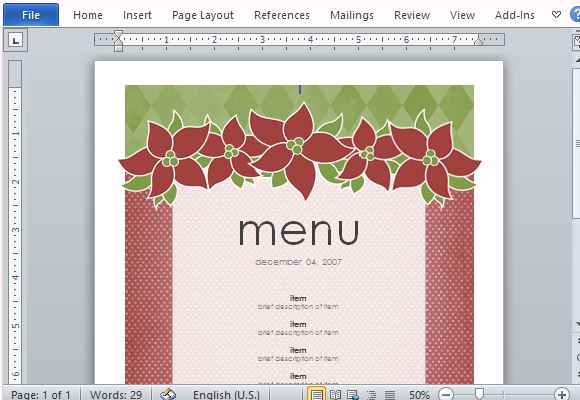 Elegant Multi-Purpose Menu for Any Occasion
This next template is simple, elegant, sophisticated, and suits most restaurants and private occasions. This Standard Menu Template for Word Online is perfect for formal events or casual dinners and even suits menus in five star restaurants or cafes. And because this template is in Word Online, you can easily access it anywhere you are using your computer or mobile device.
This sophisticated yet minimalist template can be easily customized by following the sample text format and changing them for your own information. You can change the sample images as well. Simple delete them and insert your own photo from your computer.
Go to Standard Menu Template for Word Online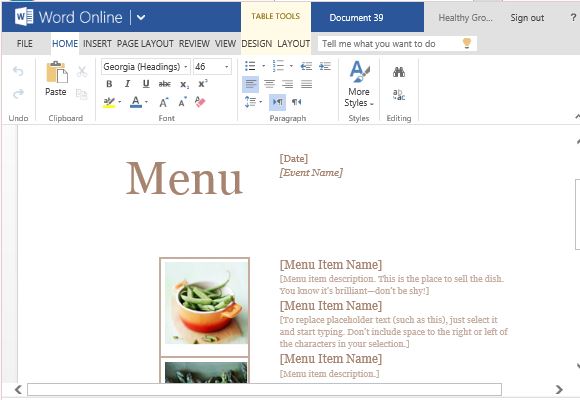 Have a Menu Ready for Any Occasion or Event
For any event or occasion where you need to whip up quick gourmet dishes as well as quick menus, you can count on this Party Menu Template for Word. This template features a two-toned, textured background and a white text box with an off-white to beige vignette. This serves as a border for all the menu items. This template contains sample text that you can easily edit with your own menu items, whether you have a selection for one course or a three to five course meal.
Go to Download Party Menu Template for Microsoft Word