You can actually get creative with birthday invitations that you can create on your own. Birthday invitations are a great way to set the stage for your upcoming party, as well as invite your friends and family to a special occasion. Birthday invitations let your guests know about the details of the party, such as date, time, and venue. Aside from this information, invitations also give your guests an idea of what to expect from the party in terms of program, theme, entertainment, food, and even dress code.
You can create printable birthday invitations in PowerPoint using the templates mentioned below. These Birthday Party Invitation Templates help you be creative, express your personality, as well as build hype for your upcoming event.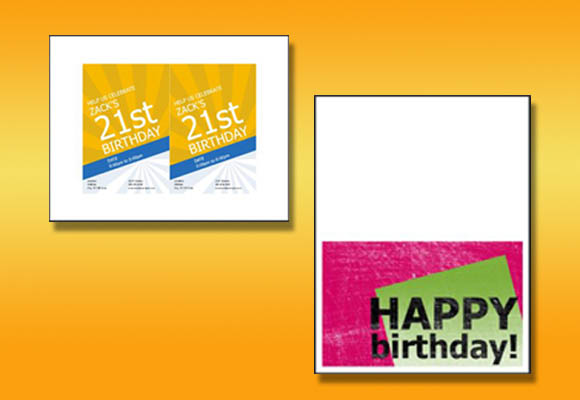 Fun and Laid-Back Kind of Birthday
For a fun, laid-back and casual birthday party, you can use this PowerPoint Online Template, which can be opened and modified from your browser using your Microsoft OneDrive account. This means you can also easily share this with other people, such as your event planning team, or even your guests. You can also opt to save it to your computer and edit and print it from there.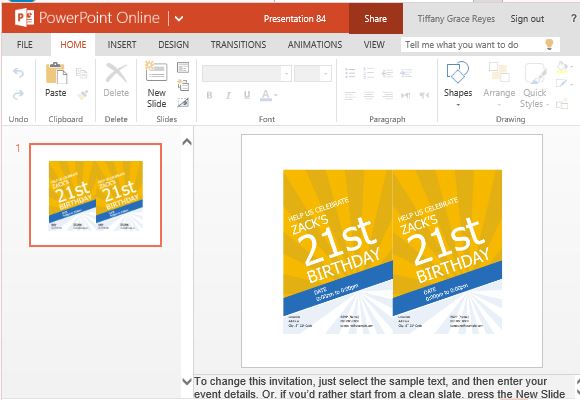 This template features a solid blue streak separating two toned light blue sun ray pattern over a two toned bright gold sun ray background, making an interesting pop of contrasting colors. This color scheme is also perfect whether the celebrant is male or female. It is also designed to suit not only invitations for birthdays but also for anniversaries, graduations, promotions, moving days, homecomings, reunions, fundraising campaigns, and so many more.
To customize to your own event, simply change the title of the event in the main heading portion, while further details can be edited by following the sample text in the template.
Go to Blue and Gold Party Invitation Template for PowerPoint Online
Make Birthdays and Other Celebrations a Blast
This next template is another standard birthday party invitation that you can use for other events as well. It contains a textured pink background with a textured and gradient green overlay. Despite this color combination, the template can be used for male and female celebrants or for any other occasion.
The vintage, rough look makes an interesting yet modern touch to this invitation template. Laid out as a, two-fold card, it can work both as an invitation or as a greeting card. Either way, it can suit any occasion such as birthdays, anniversaries, store openings, milestone celebrations, graduations, and the like.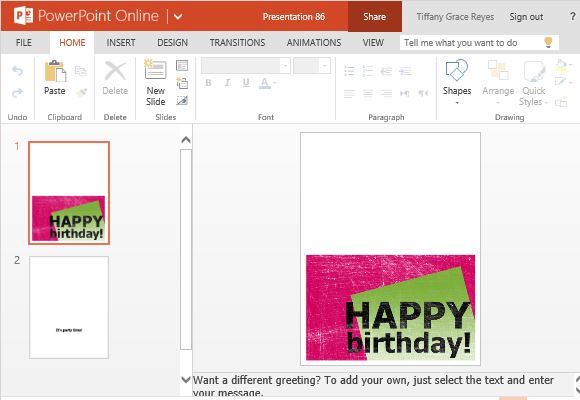 You can easily change the text header to any event title, while the inside text can be changed into personal greetings or, for invitation purposes, event details.
This template is also available for PowerPoint Online so accessing, editing, and sharing it from anywhere at any time is convenient and fast.
Go to Pink Birthday Invitation Template for PowerPoint Online