Recognizing and rewarding outstanding behavior and performance in school or at work is a great motivational tool that reinforces good qualities while inspires others to do the same. For children, getting recognition in the form of certificates is something that they can be proud of. It will also excite and further motivate them to be active and attentive in class.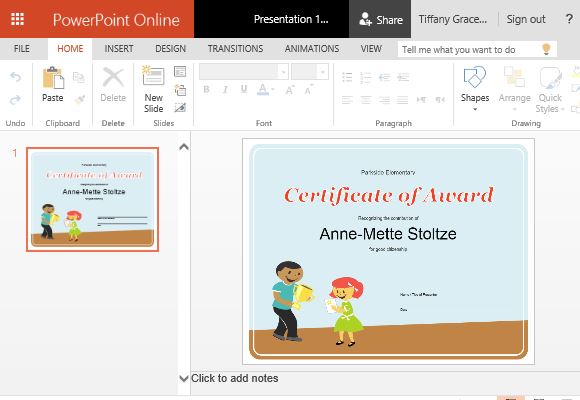 In this article, we will show you how you can create colorful and exciting printable award certificates in PowerPoint to give out to young students in order to acknowledge even the smallest achievements and give them a sense of accomplishment and encourage them to be in their best behavior.
Give Out Award Certificates to Outstanding Students
The Award Certificate Template for Students is a wonderful template for making awards that young students will definitely love to have. This template can be used to acknowledge a job well done in terms of academic, sports, or behavior in school. This template features a colorful design with images of a young boy getting a trophy and a young girl getting a certificate.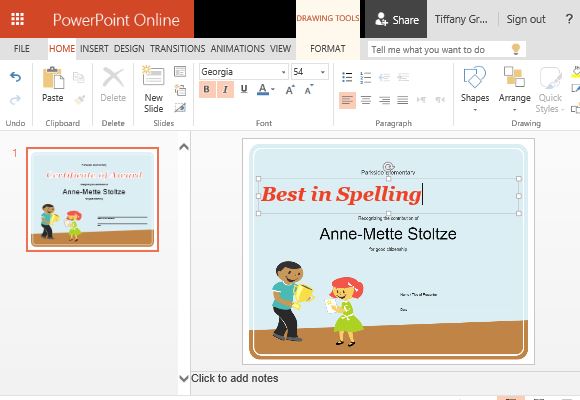 The template has a clean light blue background, to make your text stand out. The images of the happy children are in the bottom to add an interesting touch that children of many ages can relate with. A clean and white border helps make the certificate perfect for framing on your children's bedroom wall or in any part of the house.
Make Children Cheer and Keep Them Motivated
Children's face will surely beam with delight and pride once they receive an award printed using this template. If you are a teacher for preschool and grade school students, you will find this template perfect. You can easily change the headers and other text to suit your own award category and add the name of the awardees.
Simply click on the text boxes of the sample text that you want to change so you can type in your own words, such as the name of your school, class or organization as well as the award category. You can also change the name of the award recipient as you print so you don't have to begin creating certificates from scratch.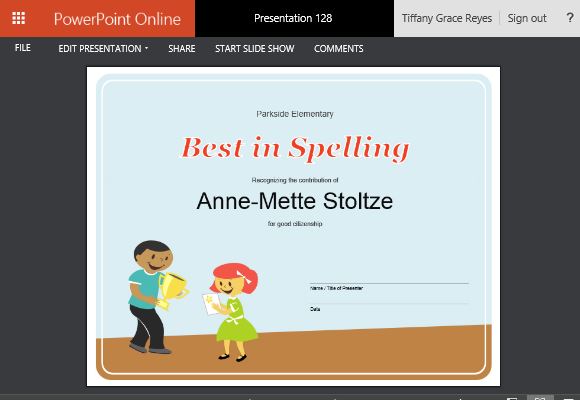 This template is in PowerPoint Online, which is perfect when you're on the go.