Using add-ins you can do so much more in PowerPoint than just present slides. The Multiple Choice Quiz app by Microsoft is a PowerPoint add-in available at the Microsoft Store that turns your slides into multiple choice quizzes. You can use this app (add-in) to instantly create a multiple choice quiz in PowerPoint that individuals can answer in Slide Show mode. You can use this app for taking quizzes individually or ask your audience a multiple choice question to seek answers during a class lecture, presentation, game show, etc.
Install the Multiple Choice Quiz App to PowerPoint
You can search and install the Multiple Choice Quiz app from the Microsoft Store via the Insert tab.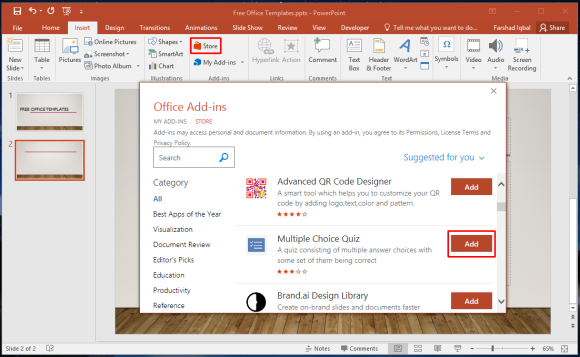 Create Your Quiz
Once installed, you can begin adding quizzes to your PowerPoint slides. The slide below shows a quiz we made using the app. You can add new options via the Add Another Answer option.
Make sure you pick the correct answer by clicking on it. The correct answer that you pick will be highlighted in green. Click Preview to see how your question will appear on-screen.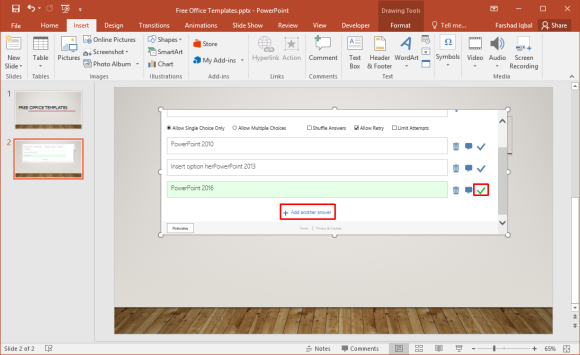 Allow Audience to Answer Questions in Slide Show Mode
You can run your slides with the questions in Slide Show mode to see how your quiz works. The below image shows a sample quiz running in Slide Show mode.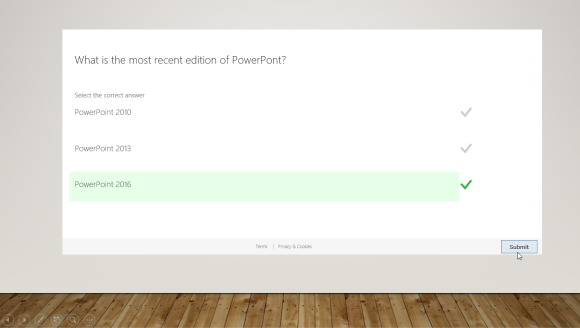 After you pick an answer in Slide Show mode, you will be told whether the answer was right or wrong. This way, you can use the Slide Show mode to take quizzes from individuals or use your slides for quizzing your audience during a Live presentation or event.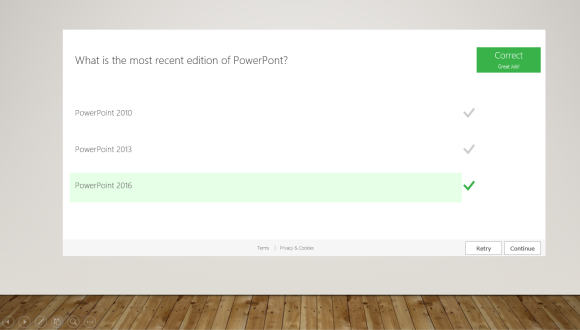 The Multiple Choice Quiz might also be useful to check the knowledge of your audience regarding a topic, by quizzing them with multiple choices and then revealing answers one by one. This app is compatible with PowerPoint 2013 SP1+, PowerPoint 2016, PowerPoint Online and PowerPoint for iPad.
You can also install this app via the Office Store link given below.