As an entity involved in trading and financial activities, you may need to issue a receipt or have received them in return. A receipt is a common document in any business activity. It is a written acknowledgement and record of something being received, whether on its own or in exchange of money, products or services.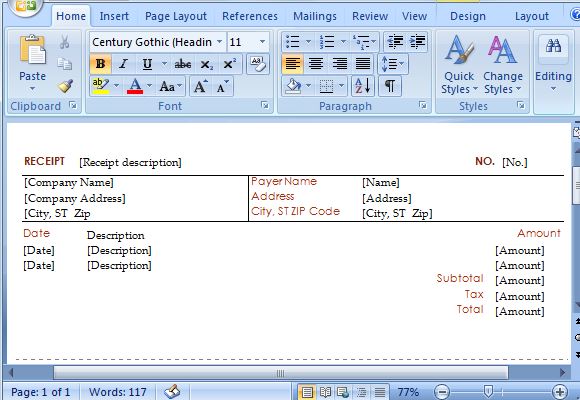 Since receipts are common documents that customers receive from companies, many businesses invest in creating beautiful receipts that reflect them and their brand. Aside from providing a record of transaction for both parties, receipts such as the one we will discuss here, also provides a marketing function for the company. In this article, we will help you create instant receipts in Microsoft Word using this Free Receipt Template.
Standard, Printer-Friendly Template
It pays to create your own receipt instead of outsourcing to a supplier or third party for the design and printing, especially through this free receipt template. This free template for Word lets you readily create a standard, professional-looking and printer-friendly receipt.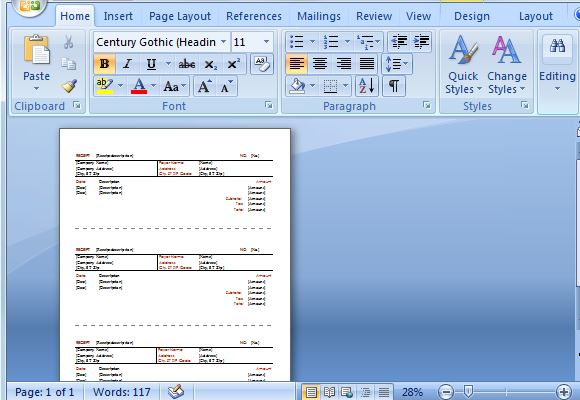 This template can let you print out three receipts in one page. One copy contains all the records of transaction and the other copies can be used for record-keeping purposes and give away to your customers.
Create Receipts in a Snap
This receipt template is professionally designed to be convenient and user-friendly for you and your employees. All you have to do is type in the information required between the square brackets to complete the receipt. There is enough space for transaction items and descriptions for multiple orders, sales, or services.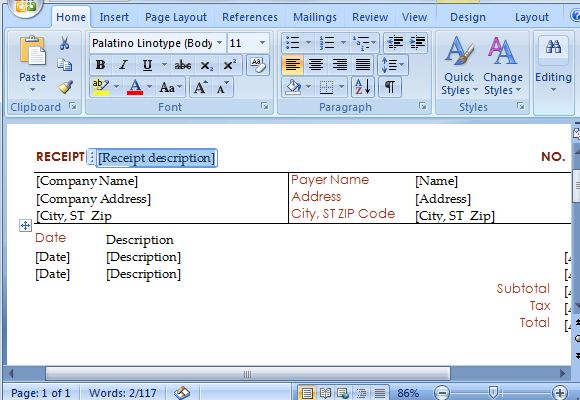 You can also easily customize the receipt for your own company colors, or add a background and letterhead. You can change the appearance of your receipt simply by going to the Design tab on the Ribbon and choosing from among the many themes within Word.