Whether in economic recession or in times of economic prosperity, it is always a great idea to save. There are many ways to cut down on your expenses especially by using expense trackers. You can also save on your regular purchases or grocery shopping by taking advantage of the coupons that many establishments use to attract customers. These coupons as a form of promotion are a very common marketing practice today and it is very easy to collect them. You will soon find out just how much you are saving by using these coupons.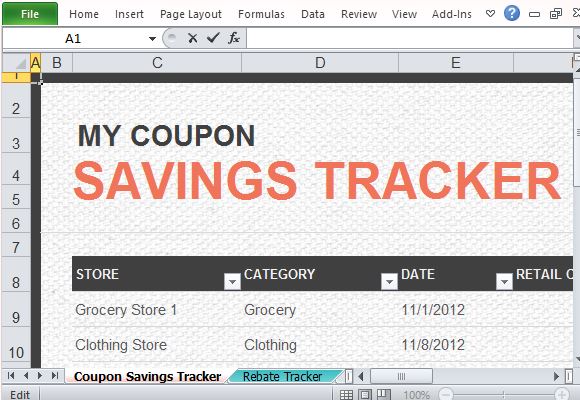 Save a Lot When Using Coupons
To help you keep track of your coupons and your savings, you can use the Coupon Rebate Tracker Template for Excel. This Excel Template allows you to list your shopping and grocery coupons as well as record their details. This household template is easy to use so you can monitor the discounts that you get from every merchant. You can also easily view all the coupons and rebates that you avail and in time, you will be surprised at how much money you have saved.
This Coupon Rebate Tracker Template allows you to list and add up all your shopping information and display it against the coupon discounts that you avail. The template's remarkable feature will automatically update the shopping amount information and display it to you in a convenient, easy-to-read format.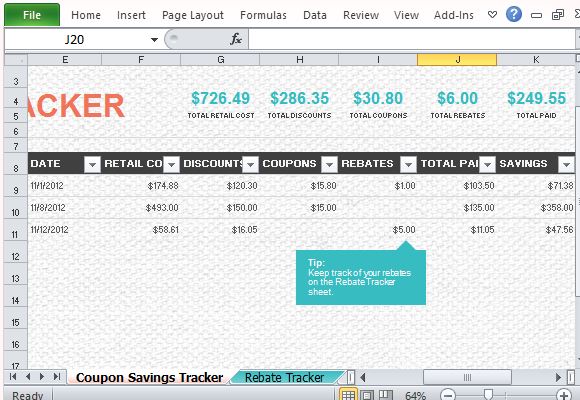 Specially Designed for Easier and Smarter Couponing
The Coupon Rebate Tracker Template has two tabs: the Coupon Savings Tracker and the Rebate Tracker. The Coupon Savings Tracker is where you can enter the store or merchant name, category, date of purchase, the retail cost, rebates, discounts, coupons, savings, notes and total paid. these are all in the form of headers that come with a built-in filter function to let you have more control over the information you want to view.
The second tab is where you can monitor the rebates that you get on various items whenever you shop or do your groceries. The totals are all automatically calculated and are displayed on top of the worksheet as Total Discounts, Rebates, Coupons and Total Savings.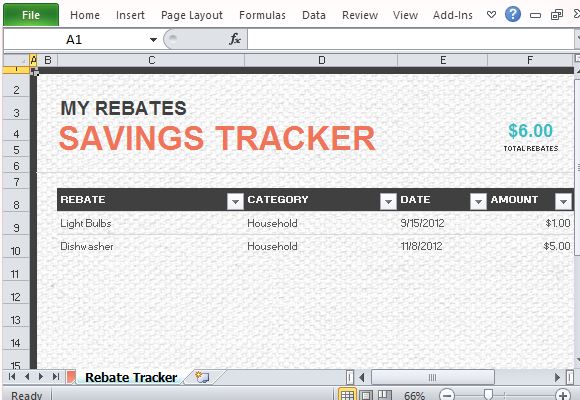 This template is available for Excel 2013 but you can also use it with earlier Microsoft Excel versions like Excel 2007 and Excel 2010.