You got a promotion, or you finally achieved a goal you've been working so hard for! Things like these need to be celebrated with a bang. Milestones such as graduation or a new baby are once in a lifetime and need to be commemorated with family. To help you celebrate and highlight these milestones and achievements, you can use this Congratulations Banner Template for PowerPoint Online.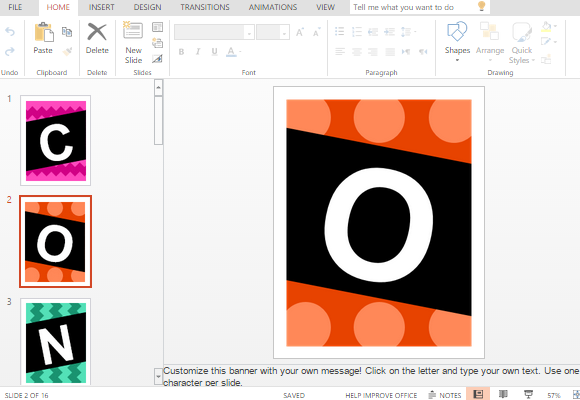 This Congratulations Banner Template features specially designed slides in PowerPoint Online to allow you to create easily printable banners for all kinds of celebrations. It has bold patterns and bright colors to create eye-catching banners that you can spread out on your venue and welcome guests and celebrants.
Each of these PowerPoint Online slides are designed to be printer-friendly. The sizes are enough for standard letter-sized papers and allow each letter of the greeting banner to be easily readable even from afar.
The font in each letter of the greeting is simple as it beautifully offsets the vibrant backgrounds' contrasting and complementing colors. You can customize these by going to the Design menu and changing the design elements of the slides. You can also go click on New Slide on the Home menu to select specific slide styles to suit your own preference or celebration theme.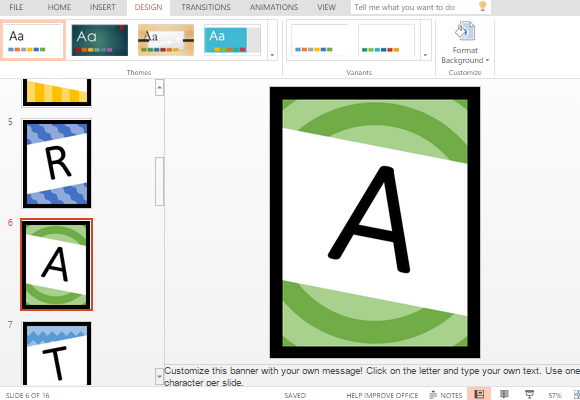 Aside from "Congratulations" you can also change the banner message to anything, short or long. You can even use the banner template to say "Happy Birthday," "Happy Anniversary," or "Happy Halloween." Furthermore, you can type your very own personal message to make your banner unique.
You can go to the Microsoft Office Online portal to access this, as well as many other personal PowerPoint templates. This feature makes it perfect if you are always on the go, especially if you are an event organizer or simply cannot be on your desk to create banners quickly.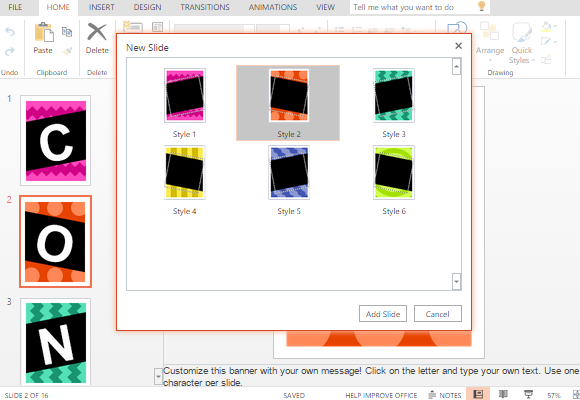 You also have the option to print this banner template or to simply send it to your friends, family, or to the celebrant via email, social media, and other sharing tools.