Meetings tend to be counter-productive at times. People sit around together talking about things that they might as well be doing already. However, with proper planning, meetings can be productive and everyone will look forward to attending one.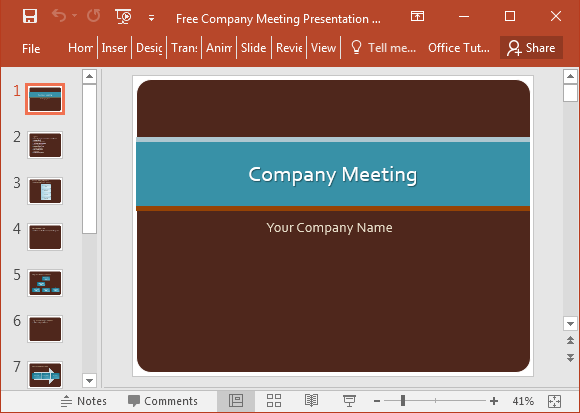 Create Productive Meetings
The Company Meeting Presentation Template for PowerPoint is a template to ensure productive meetings. While you can always create an agenda, nothing beats creating an organized presentation that everyone can see, understand, and therefore remember. The company meeting PowerPoint template is a great tool that you can use for every meeting as it will help you keep your topics within the set agenda, instead of getting distracted by other topics, which can then make meetings time-consuming and basically counter-productive.
This free Office template is especially created for meetings and it contains various slides to provide you a guide and a structure on how your own meetings should go. This template contains 13 different slides, starting with a title slide, to help you make the most out of meetings.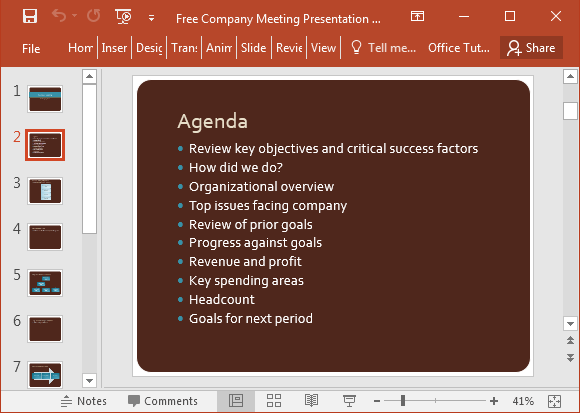 This PowerPoint template features a maroon background with a blue accent. The theme is simple and professional, without any frills that may add to the distraction from the topic at hand. Of course, you can still add images, videos, and other objects, if the meeting requires it.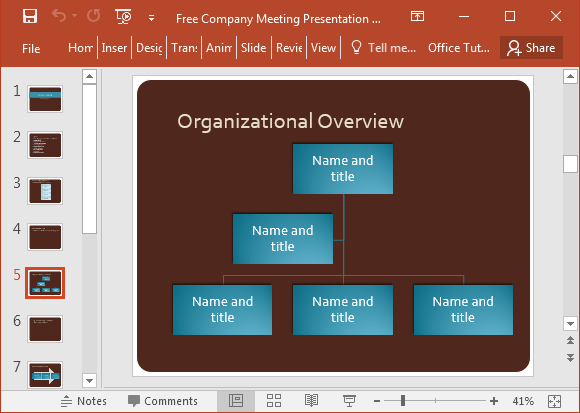 Stick to Your Agenda
The template has various slides that are dedicated to different subtopics or sections. The topics include, Agenda, Objectives or Goals, Risk Factors, Overview, Top Issues, Prior or Previous Goals, etc. You can rearrange, modify, delete, or add topics and slides, depending on your meeting's agenda. This type of content arrangement should be enough to give your audience the current status of your company and compare its performance against its previously set goals.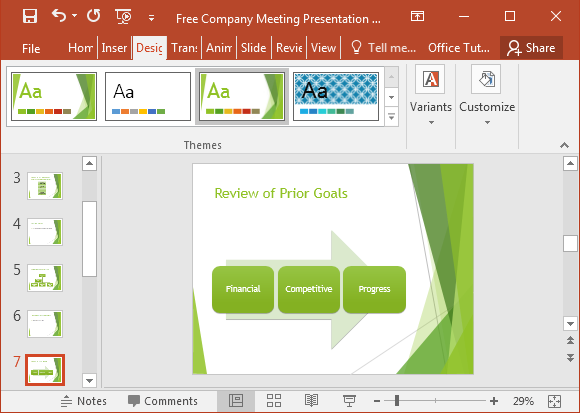 You can add your company or organization logo for branding, but remember to just put it on the title and closing slides. You can also change the theme by selecting various theme options under the Design menu.
Go to Download Company Meeting Presentation Template for PowerPoint