College is that last hurdle before you face the real world. It can be challenging. As a college professor, it is your job to help these students and guide them before they go out and be the people they have always wanted to be. And all this starts in every school year, when you greet your students and create an impression with them as you begin your subject or course.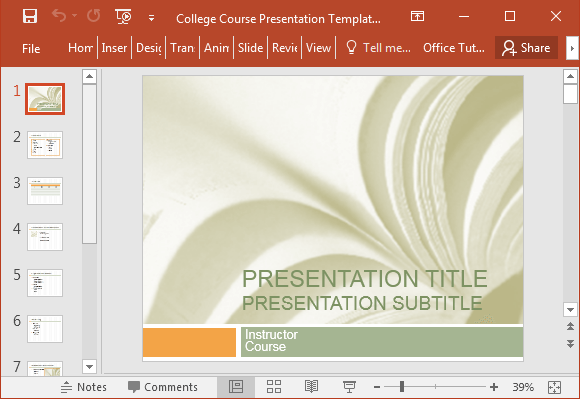 Create an Impressive Course Syllabus
To help you get started with your own course and to leave a lasting impression on your students, you can create a powerful college syllabus presentation that they will not forget. The College Syllabus Presentation Template for PowerPoint can help you create a powerful syllabus presentation without taking up a lot of time.
As we all know, teachers already have a lot of things to do, and helpful templates such as this one can greatly reduce the time it takes for you to create presentations, especially if you have a lot of subjects and classes. The time you save from creating syllabus presentations can be spent on preparing your lessons, tests and projects, among many other things.
This college syllabus presentation template for PowerPoint is a highly versatile template, as it can be used by any college professor for any level or any subject or course. This free PowerPoint template features an elegant theme that is specially created for the academe or for educational purposes.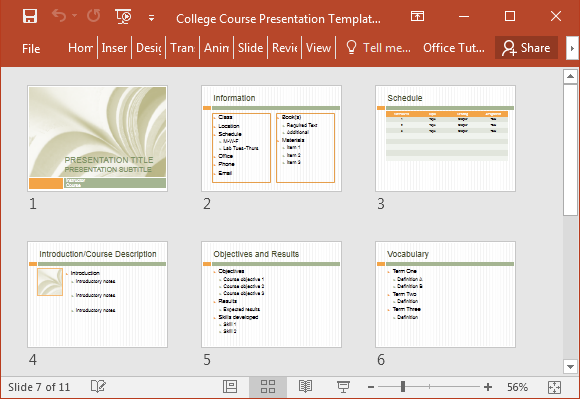 Clearly Relay Course Objectives and Requirements
The template starts with a title slide that contains a close-up image of a book's spine, with the pages spread out, creating a beautiful yet elegant pattern. The colors are elegant as well, subdued and not too flashy or vivid. Then, the presentation title and subtitle can be seen on the image, in big bold letters that stand out against the white book image background. Meanwhile, the title slide alone can tell you that the color scheme looks professional, with warm orange and light green rectangles forming a band at the bottom of the slide. Here, you can type your name and the course title.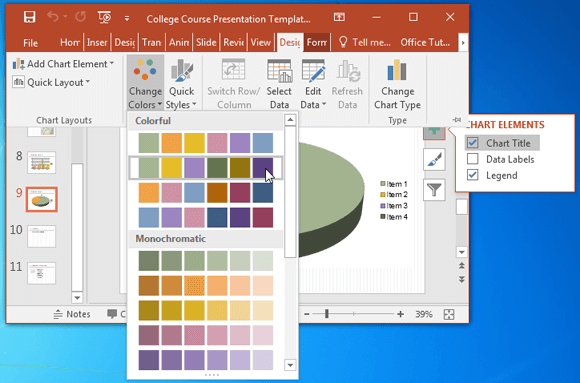 The inside slides contain your information, easily organized into various topics on the slides. This allows you to logically organize your ideas and information, as well as present it in a way that your audience, the students, can easily follow.
Go to Download College Syllabus Presentation Template for PowerPoint