If you are in publishing or in the literary world, you may at some point find a need to create a presentation. There are a plethora of presentation designs available today but you need to find that one perfect design to show your elegance and professionalism without being overpowering or distracting. Whether you are promoting your book, proposing a manuscript, creating a brief, summarizing a novel, presenting a plot or for any related purpose, you can find this next template highly useful.
The Classic Book PowerPoint Template is a professional and elegant template that you can use for book-themed presentations. The widescreen template highlights the wide layout and makes your content stand out even more against the dark background.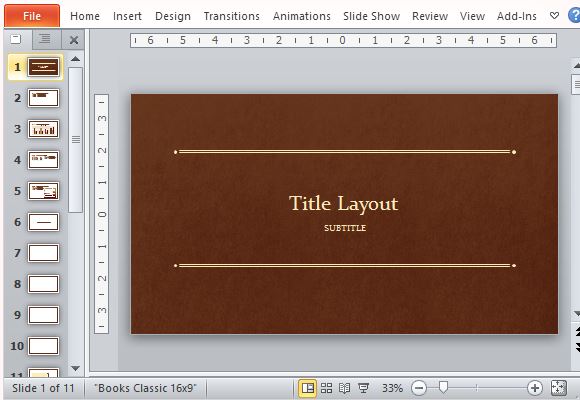 Rich and Elegant Template Design
This PowerPoint Template features a deep, rich color and a simple, elegant design that makes it a classic. These qualities make it pretty standard, thus it is convenient for a wide variety of presentation topics and audience. It is even designed like a leather-bound or traditional book cover, with the rich, brown color of the textured background looking like leather and the lines and text across the template is like the embossed text on books as well.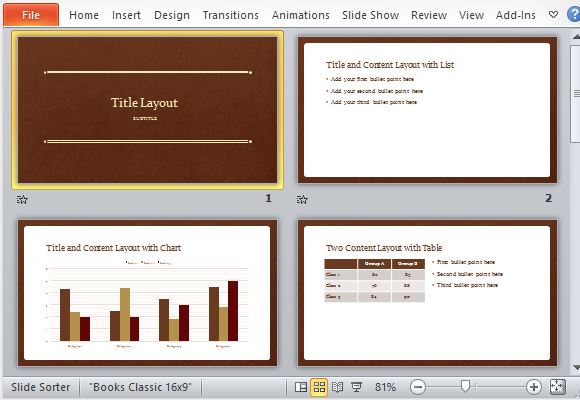 This beautiful book theme is prevalent in all 11 sample slide layouts in the template, which starts with a title or cover slide. The succeeding slides contain various layouts that guide you into completing your own presentation. These slide layouts are created to help you convey your data in the most effective way that would also make it easier for your audience to comprehend and learn. You can include charts, tables, lists, photos, diagrams and graphs.
Go Beyond Books
This Classic Book PowerPoint Template is not only ideal for presentations involving books, literature and publishing. It can also be used for school, as well as business, financial, and many other presentation projects.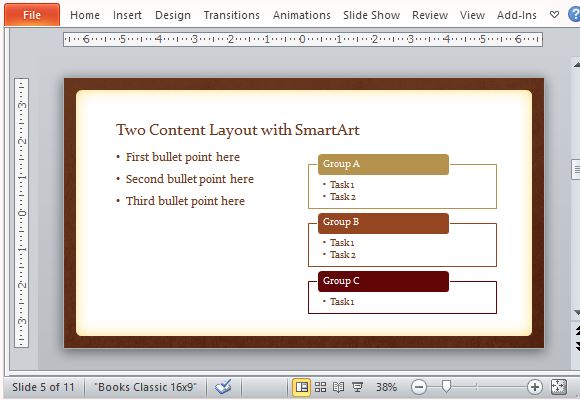 You can easily customize the template to suit your own preference and needs. Simply make the necessary modifications on the Master Slide. You can also change the Style, Theme, and Design.