Often, we feel stressed by work, family life, school, and the many things that are going on in our lives. In times like this, you need to just take a break to get away from it all and reconnect with yourself. This is why going outdoors such as camping is a great idea, not only for you but for your family, employees or office colleagues.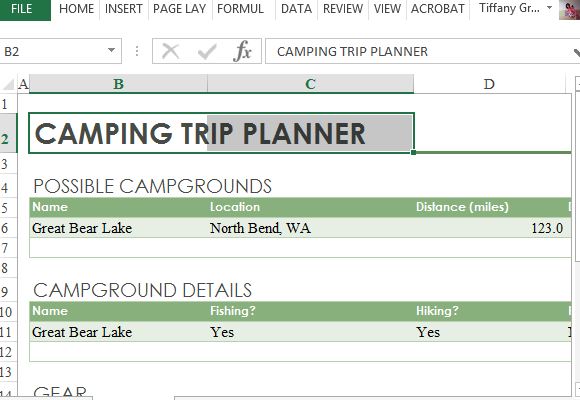 To help you plan that next camping trip and make the most of what nature has to offer, you can use this Camping Trip Planner Excel Template. This free template for Excel is like many trip planner templates except this one is specially created for camping.
Enjoy a Wonderful Camping Trip
This Camping Trip Planner Excel Template features tables to allow you to plan and prepare for the different aspects of your camping. This includes a table for your Possible Campgrounds, Campground Details, Gears, Resources, etc. This way, you can be sure that you don't forget anything while you are in the middle of the woods and that you are prepared for anything that will or may happen while you are in your camping. This will also allow you to enjoy your camping trip fully-prepared and without worries.
Depending on your camping ground, amenities, and activities, you can prepare for whatever you will need. This can be seen especially in the Gear section of the template, where you can list and prepare for Clothes, Sleeping Gear, Cooking/Eating Utensils, Food, Emergency Supplies, and other things you may need to bring for your specific camping trip.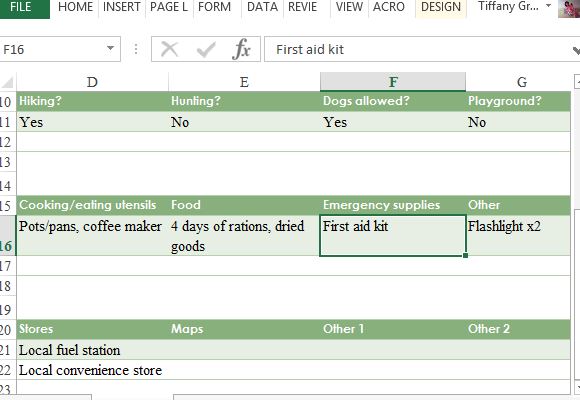 Create a Planner for Your Next Trip
For your Resources, you can list here your Guidebooks, maps, reference websites, stores to go to or visit for your camping trip, and other references that may help you more.
You can prepare with your team, friends, group, or family members using this Excel template. This is because you can share this camping trip planner with them so they can also add their own ideas, lists, and preparations.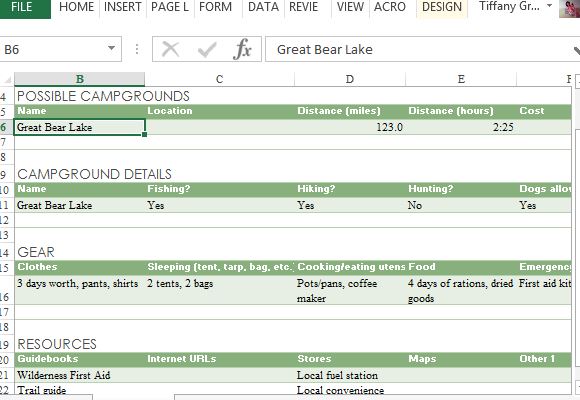 By adding this to your OneDrive and sharing with your companions, you can also view and update each other on your camping trip preparations so that everyone is on the same page.