When launching a new product or service, you should let your customers and potential clients know all about it. This not only markets your new offerings but also gives them important information on how it could benefit them. This said, you need a Business Product Presentation to give them a sneak peek into your product's features and benefits.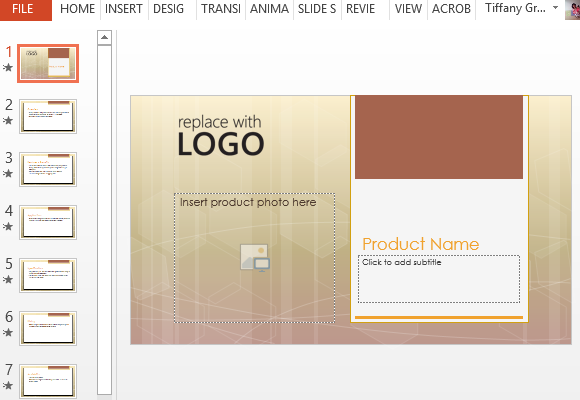 The Business Product Presentation Template for PowerPoint can help you present your new products or services in a way that grabs the attention of your customers and makes them want to get your product. This PowerPoint template is perfect for showing your product to not only your customers but to potential investors as well. Such a presentation can help you get the funding that you need to get the product to market, or simply get buyers to choose your product over the competition.
This Business Product Presentation Template features 7 specially made slides to highlight the important aspects of your product and to make it interesting for your customers or investors. It has a subtle gradient brown background with a honeycomb design. There is also a white overlay for your content, such as text and images, to ensure easy readability for your audience. Furthermore, there is a deep mahogany brown rectangle on the slides to serve as accent.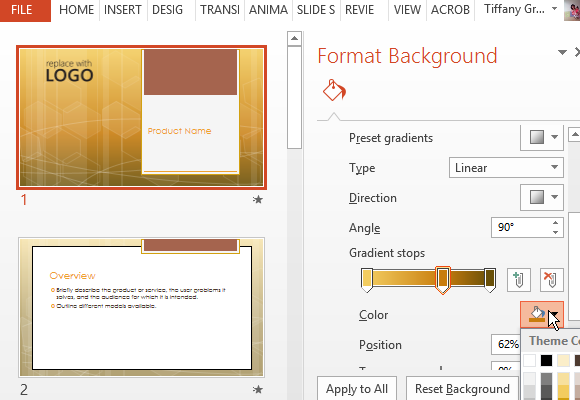 Although the template is in brown, you can change it by formatting the background so that the color scheme matches your company's branding strategy. You can also include your company logo on the slides for added branding.
The template contains 7 slides, starting with the title slide. Here, you can easily insert your company logo on the indicated portion. You can also click on the placeholder to type your product name. In the following slides, you can write your Overview, Features and Benefits, Applications, Specifications, Pricing, and Availability.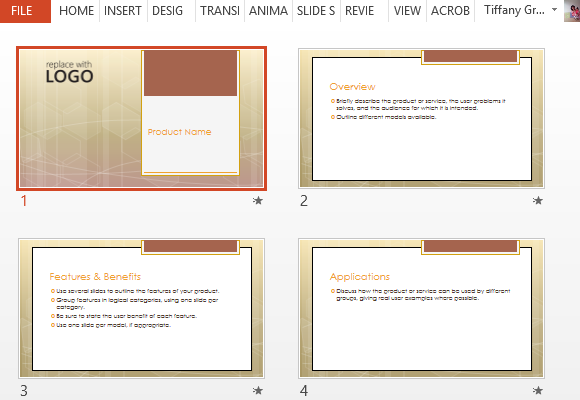 You can even insert pictures of your products and add new slides depending on your more specific presentation needs. Just follow the tips on the slides to help you as you go along in creating your own product presentation.
Go to Download Business Product Presentation Template for PowerPoint