For anyone who plans to start a business, it is wise to gather all research, ideas and other information together to form a business plan. A business plan is a solid, sensible, attainable, and realistic framework of what your business is. Despite your resources and passion for your business, it will only be successful with clearly defined goals and plans of action within your business plan. 
Though there are many business plans for many types of businesses, its basic principle and aim is to provide a clear and logical idea and direction for your business endeavor.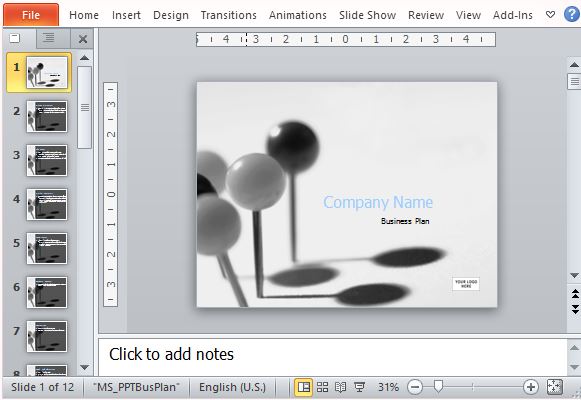 A Winning Plan for Your Business
There are many business plan templates available at the Microsoft portal for Word and PowerPoint. Here, we will cover a Business Plan PowerPoint Template that will help you take your business idea to the next step.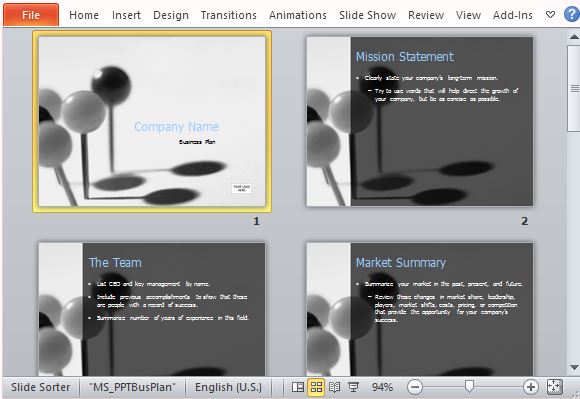 This Business Plan PowerPoint Template contains an outline for you to make a detailed presentation to show investors, stakeholders, stockholders, or your start-up team. This will help you convince investors to finance your business or invest in it.
Clean and Professional Design
This template contains 12 slides that outlines the topics and information you should put in your business plan. This outline is standard and you have an option to add more or modify the slides. The first slide is the cover slide, which shows pins and conveying a sense of confidence and focus. The text is in clear, bold yellow font that stands out from the background and gives easy readability.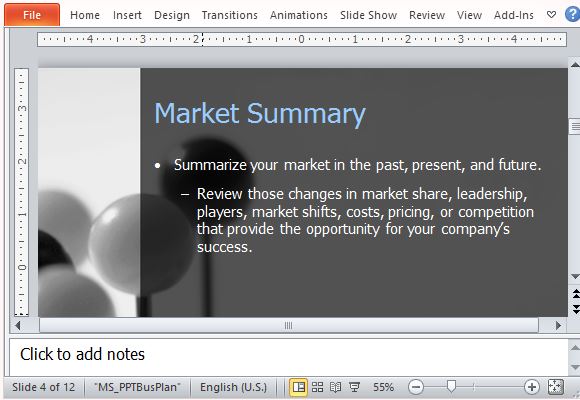 The succeeding slides contain a topic each, such as Mission Statement, The Team, Market Summary, Opportunities, Business Concept, Competition, Goals and Objectives, Financial Plan, Resource Requirements, Risks and Rewards, and Key Issues.
Each slide gives specific tips and guides on what to write for the content so you will have an easy time furnishing a convincing and well-written business plan.