From travel agencies to massage therapy, from real estate to used cars, from consulting to contracting, businesses would benefit by creating brochures to further market their company. Whether you are selling products or offering services, brochures grab the attention of its audience, which are your potential clients. A good brochure would entice them to try out what you have to offer and even recommend you to others.
The Business Brochure Template for Microsoft Word is a convenient brochure template that you can use to show what product or service your business has to offer its customers. This template has everything your potential customers need to know.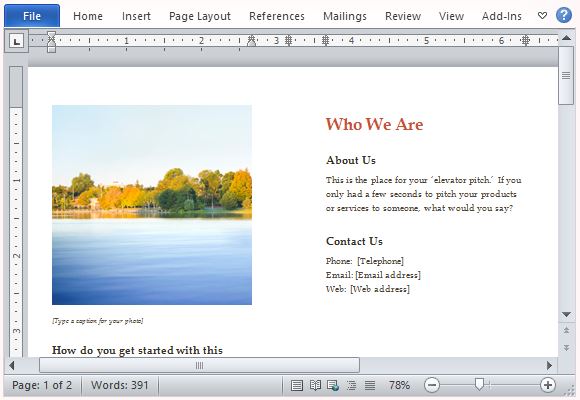 Professional Design and Layout
A standout quality of this Business Brochure Template is its layout. It is sleek, uncluttered, and easy on the eyes with the right balance of text and graphics. The layout puts in logical order the information that your potential customers would need to see first. The images, colors and font designs go together to create one look for your company, allowing you to get a good impression from people who see your brochure.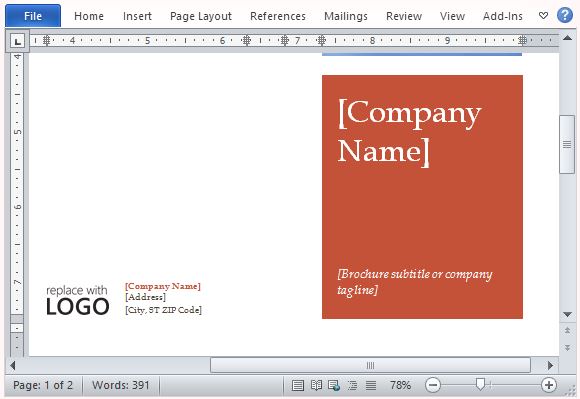 Easily Customizable
This brochure template is easy to customize for your own company and industry. The brochure template itself comes with professionally written tips to help you out with completing and creating your own brochure. It is designed to give you an idea what sort of information you should put in the different parts of the brochure. You can add elaborate descriptions using the written guides in the template. It also has placeholders so you can conveniently change the photos into your own company's location, logo, product, site, or services.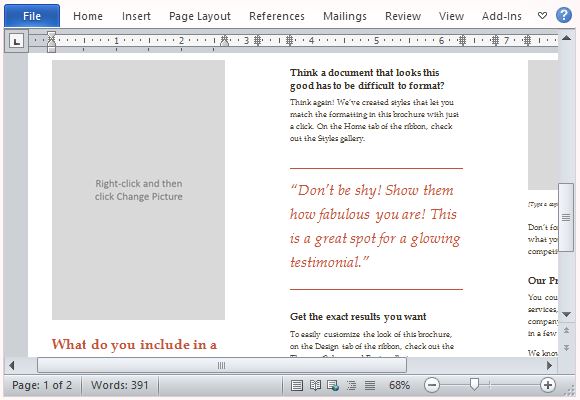 Aside from that, this template gives you the freedom to make modifications to the style, theme, format and colors of the business brochure. Using this template, you can easily create your own eye-catching brochure within minutes and grow your business for a long time.
Go to Download Business Brochure Template for Microsoft Word