When you are creating a marketing plan or a marketing strategy, coming up with a business brochure is oftentimes easily dismissed or even overlooked. Many business establishments nowadays focus on increasing their presence online, especially in social media and blogs. However, nothing still beats the good old fashioned brochure because it allows you to directly and immediately connect and get your message across to your customers.
There are many PowerPoint business brochure templates available that you can use whether you are in the medical, food service, consulting, or design industries, to name just a few. The business brochure templates listed below will allow you to get the word out about your company directly to your potential customers, and your market.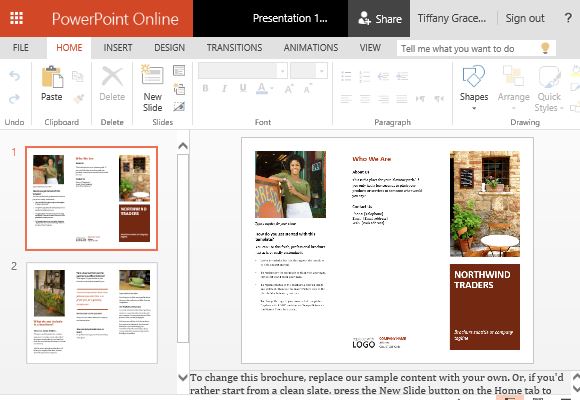 The Business Brochure PowerPoint Templates that you can see below are convenient and very accessible because they are in PowerPoint Online. These templates can be accessed anytime and anywhere through any mobile device and browser. All you need is your OneDrive account.
 Tri-Fold Business Brochure Means Business
The Tri-Fold Business Brochure Template in PowerPoint will help you talk about your company and your products and services to your customers. It is specially designed and laid out to be packed full of your best features to entice customers without overloading them with too much information. The images and text are well-balanced enough to keep them reading through your brochure.
This template features a rustic theme to it, which is perfect for any kinds of business or industry, such as restaurant, events, consulting, design, tourism, and many more. Simply follow the instructions and guides to complete your own business brochure.
Go to Tri-Fold Business Brochure Template for PowerPoint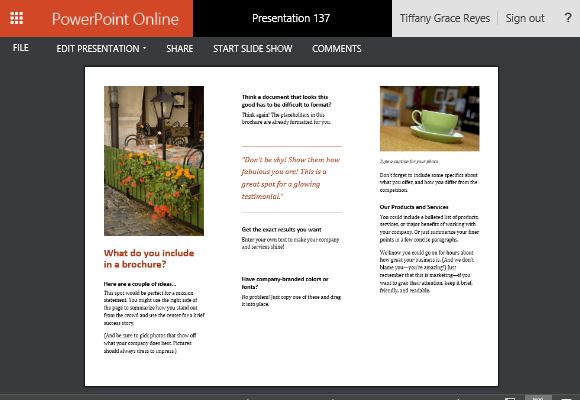 Be Captivating in Black and Red
This Black and Red Tri-Fold Business Brochure Template for PowerPoint features a more subtle, minimalist and modern approach in its layout and theme. It exudes a different style that is much formal, which is perfect for corporate settings and in industries such as architecture, engineering, travel, aviation, and many more.
This tri-fold brochure template is designed to also serve as a mailer so you can send your customers or even potential ones information about your company and your products or services. The layout and design is clean and you can easily highlight your best features to wow your customers.
Go to Black and Red Tri-Fold Business Brochure Template for PowerPoint