If you are involved in advertising, fashion, design, and similar creative industries, then brainstorming is familiar to you. Certainly you have brainstormed for that big, ground-breaking idea to present to an important client or to your boss. You may have also conducted a brainstorming session to come up with that new commercial jingle for your product. However, no matter how many times you may have done it, it can be brain-wrecking to do brainstorming.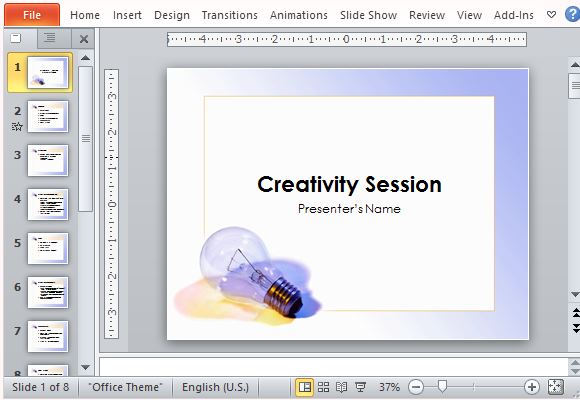 Let Your Imagination Fly With This Brainstorming Template
There are many tools available online today. However, the simple act of spontaneously listing ideas can be burdened by complex software or applications. In times like this, there is a PowerPoint Template for Brainstorming that you can use to help you or your team effectively and productively facilitate a brainstorming session.
Tools such as this can be downloaded from the Office portal and are absolutely open source. This PowerPoint Template for Brainstorming can help you create a more organized, effective, and goal-oriented brainstorming session. A brainstorming activity can tend to be overwhelming especially when there are just too many ideas on the table. Thus, this template can help you sort things out and present your main ideas in a beautiful presentation.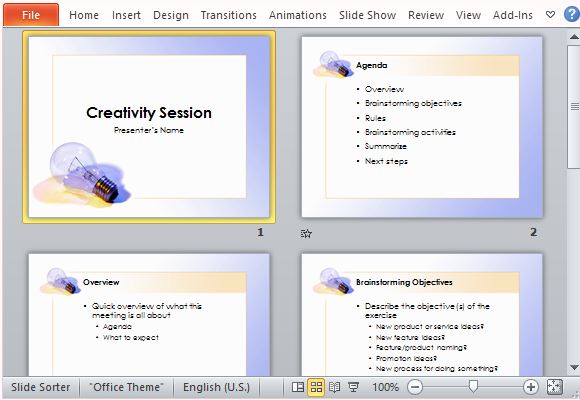 Slide Layouts To Facilitate Brainstorming
This template contains the various slides that start with a cover slide, where you can easily type in your title in clear bold letters. The inside slides are composed of the Agenda, Overview, Objectives, Rules, Activity, Summary, Next Steps. Because this template is organized in such a manner, you can use this template as a guide during the brainstorming session. And, once you are done, you can also use this same template to present your ideas.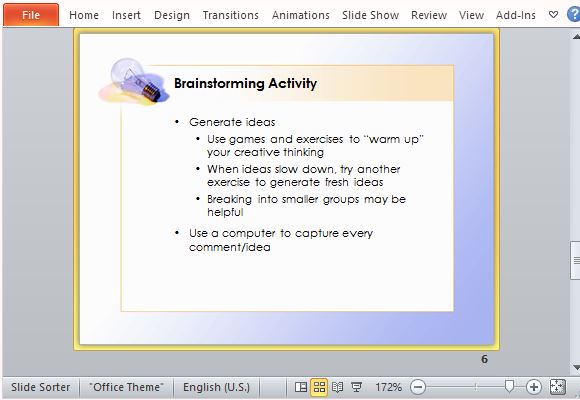 With this standard and beautifully designed template, you can let your imagination fly without losing track of your objectives. The template can even help you engage your team or group in order to also be more willing to think up more ideas.
Update:
This template is no longer available, you can download an alternative template via the link below.
Go to Download Business Brainstorming Presentation Template for PowerPoint (Alternative Template)