For anyone wanting to track blood pressure for personal, group diet or nutrition, or even for professional reasons, you can use the Blood Pressure and Heart Rate Tracker Template for Excel, which is specially designed for medical, health and nutritional purposes. This template is professionally and specially designed for tracking blood pressure, comprehensively measuring data over a period of time.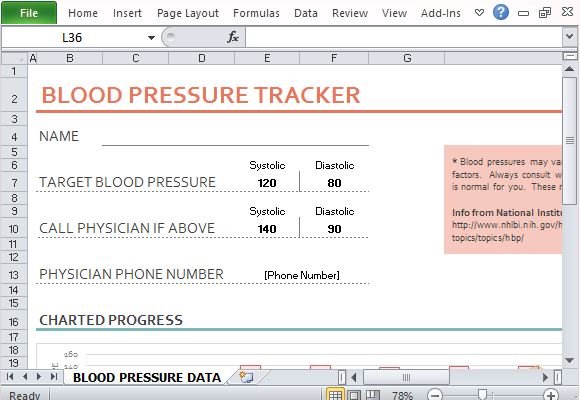 Create Your Blood Pressure Profile and Monitor Trends
This health themed template allows users to create a profile about an individual, a patient, or a client's blood pressure and other health data into one profile. Then, by typing in the required information over a period of time, the template also automatically generates graphs and charts for visual representation of data.
The blood pressure and heart rate tracker template contains a header where you can type in your name and set your target blood pressure in terms of systolic and diastolic rates. There is also a reminder that allows you to create an alert if the systolic and diastolic rates reach a certain abnormal level. The physician's number is also listed for emergency situations.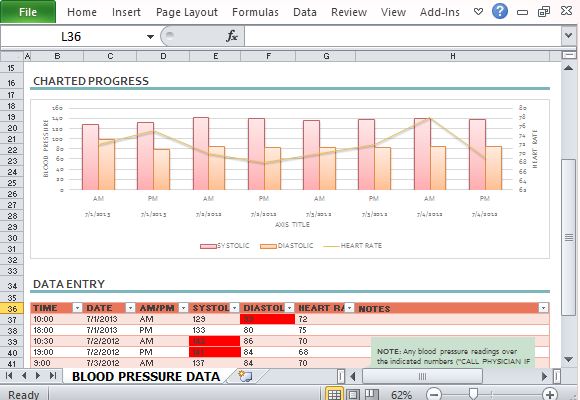 Automatically Track Abnormalities in Blood Pressure
This template allows you to record daily blood pressure and indicate the time of recording. The template's built in formatting automatically recognizes if the blood pressure record is abnormal and highlights that specific record in red. This way, you can easily spot the days and times when you have high blood pressure and therefore avoid any food or activity that may have contributed to it.
Once you have typed in the needed data, the chart automatically updates to show the tracked progress of the blood pressure and heart rate records. It shows the morning and evening systolic and diastolic heart rates and from here, you can automatically see the trend to see if you are doing well and are maintaining a healthy blood pressure throughout the given time period.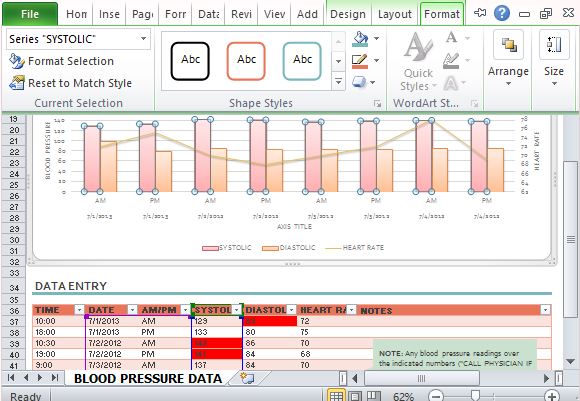 The design and format of the table and charts are aesthetically pleasing and professional enough to be used for presentations and reports. It can also be used in the clinical or professional setting, where physicians or dieticians, to name a few, can record information on each of their patients or clients.
Go to Download Blood Pressure and Heart Rate Tracker Template for Excel