Nothing says elegant and formal than a black-tie event. This is why many fundraising events and special occasions often require male guests to wear a black tie. Of course, such occasions also require presentations that match it. For this, The Black Tie Template for PowerPoint Online is the perfect companion.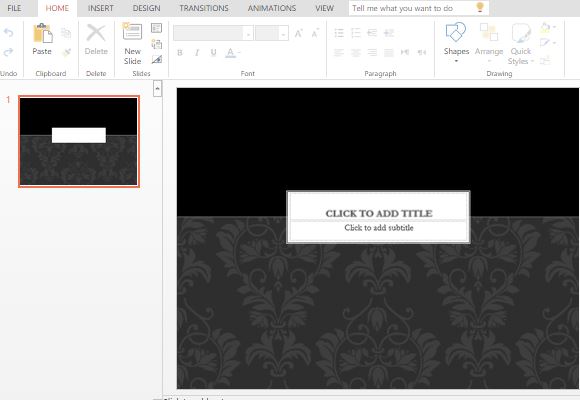 The Black Tie Template for PowerPoint Online is a formal and elegant template that features solid black background on the top half of the slide, with a gray and dark-gray damask pattern on another. These are then accented by a white rectangular overlay where the title and subtitle for the Title Slide are located. The overall design looks modern yet versatile enough for many presentation purposes for work, school, or personal use. In fact, the template can be used for design, fashion, events, project management, brainstorming, mood boards, and even photo albums.
To create your very own black tie presentation, simply click on New Slide and choose the slides you need for your own content. The template contains numerous premade layouts that are all professionally designed. This way, whatever information you include in your slides, you can be sure that your whole presentation looks not only sensible and cohesive, but impressive.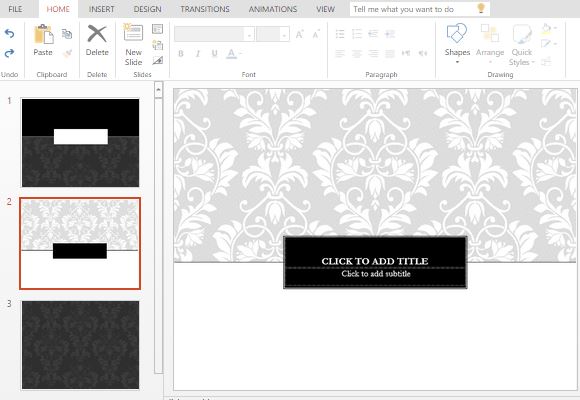 Now if you want to customize the template, you can easily do so because it is built in with customization options, like many other PowerPoint Online Templates. Simply click on the Design menu on the Ribbon to change the background images and add your own elegant pattern. You can also go to the Home menu to change the font styles and font colors.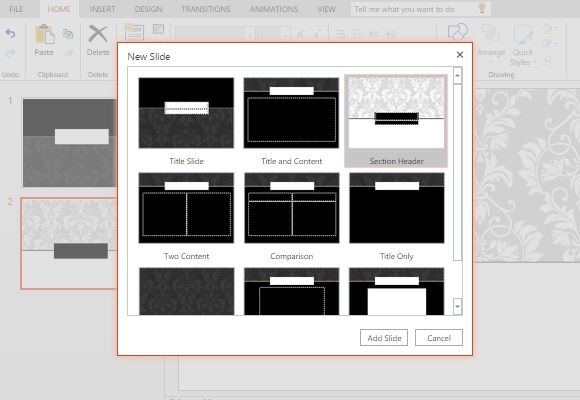 As a PowerPoint Online Template, you can access this template online. This makes it easy to create and update your own slideshow even when you are on the go. You can also easily work remotely with a team on a presentation project, as well as see real-time updates.