Birthday, whether it is the 1st or the 100th, are always reasons to celebrate. It not only marks a year added to the life of a person, but it is also a celebration of life itself, as well as everything that goes with it. So if you want a big bash or a small party for your family member, friend, or office mate, the Birthday Banner Maker Template for PowerPoint Online is your perfect companion.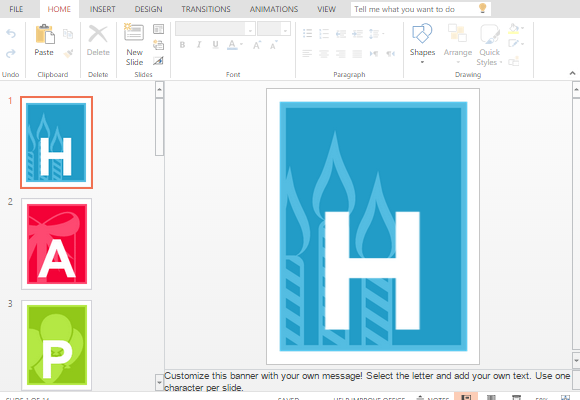 This Birthday Banner Maker Template for PowerPoint Online is designed to create highly readable banners that are perfect for birthday parties. This PowerPoint template contains a festive "Happy Birthday" greeting that contains one letter on each specially sized slides. Each of these letter slides have different birthday-themed backgrounds such as gifts, candles, cupcakes, and balloons. These backgrounds are also available in various colors to allow you to customize your birthday banner according to your theme or motif.
This birthday banner template is also printer friendly and it can be printed on a standard letter-sized template. You can rearrange the backgrounds and choose different colors to suit your preferences. If you want, you can choose the same colors and the same background design throughout your banner. You can even customize the greeting with your own personal message.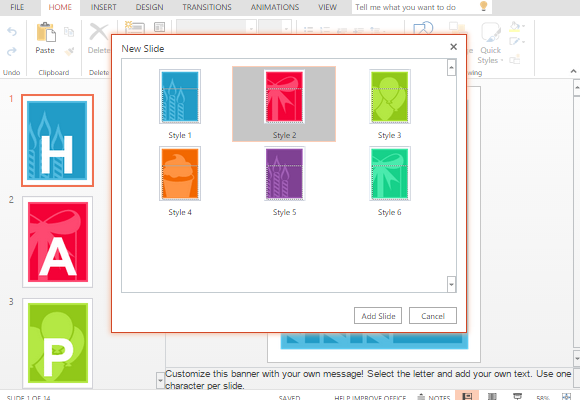 And since this birthday template is in PowerPoint Online, you can save paper and simply send the banner greeting via email or through social media. You can even create messages for each letter on the banner so that the birthday celebrant will feel the warm birthday wishes from families and friends. Furthermore, you can share the PowerPoint Online template with your friends or family so that they can share the birthday cheer.
To access this birthday banner template, just open any browser. Then, go to the Microsoft Office Online portal to edit and personalize the birthday banner.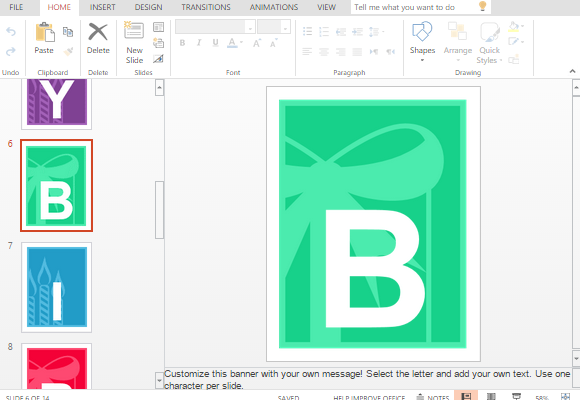 Aside from birthdays, this template can be used for many other celebrations, such as christenings, weddings, anniversaries, graduations, launches, baby showers, and many more.