If you are a business involved in providing products or services to your clientele, then you will be issuing a billing statement. For billing purposes, a clear, well-written billing statement is needed in order to specify details of the transactions that are to be billed. 
The Billing Statement Template for Microsoft Word is a handy free template with alternating white and green lines, company logo, past due and remittance sections. It contains detailed billing information that is well-written and designed for services or products.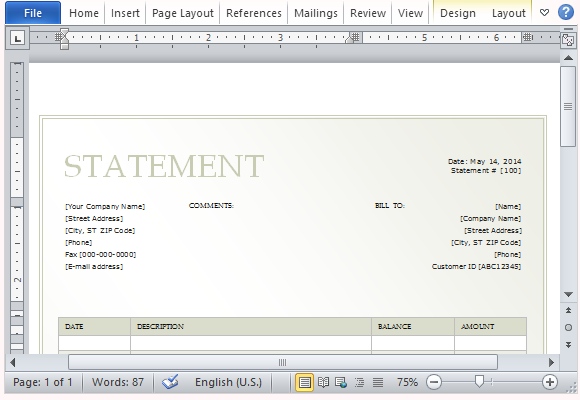 It has a Date and Statement Number on the upper right-hand corner of the template. It also contains the Company Name, Address, Phone Number, Fax Number and Email Address of your company. It also contains the Bill To Information such as Name, Company Name, Address, Phone Number and Customer ID.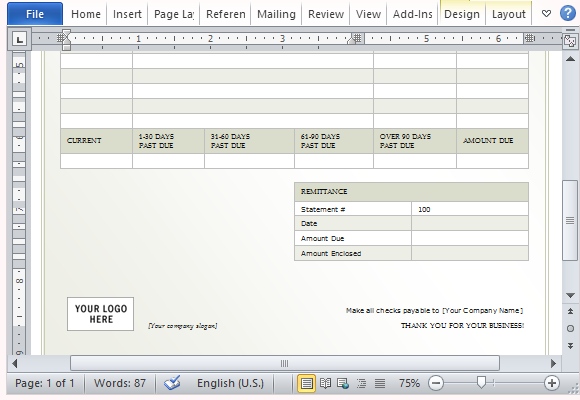 This Billing Statement Template also contains a table where you can write all the billing information. It contains four columns for Date, Description, Balance and Amount. It also has a separate set of rows and columns for Current, 1-30 Days Past Due, 31-40 Days Past Due, 61-90 Days Past Due, Over 90 Days Past Due, and Amount Due. The template contains a separate table that is dedicated for Remittances with Statement Number, Date, Amount Due and Amount Endorsed.
The bottom part of the template contains your Company Logo, Company Slogan, and Account Information to which all checks should be made payable.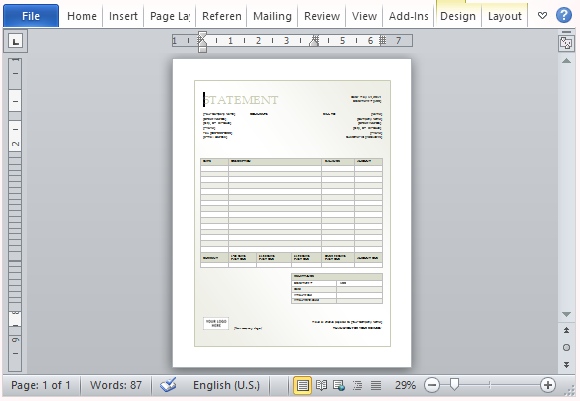 This letter-sized Billing Statement Template can be printed and filled out by hand. You can also fill it out on the computer. Either way, this conveniently lets you add your details and modify the template to suit your company needs and preferences. Just go to the Format and Design tabs in the Ribbon menu to easily modify the template.
Go to Download Billing Statement Template for Microsoft Word