A SWOT analysis is used by organizations to map the strengths, weaknesses tied to a business or venture, as well as to understand the opportunities that can be availed and the threats that need to be accounted for. If you want to create a SWOT analysis online to share with colleagues, senior management or other stakeholders, you can use the easy to use web services mentioned below.

Canva
Canva is an extraordinary visualization tool which enables designing anything from online presentations to social media artwork, banners, brochures and even a SWOT analysis. Using Canva you can design your SWOT analysis with the help of thousands of images, a variety of shapes and other useful tools. You can also start with a useful template to give your analysis a professional look. Canva has a free version which is sufficient for making SWOT analysis and sharing it online.
Go to Canva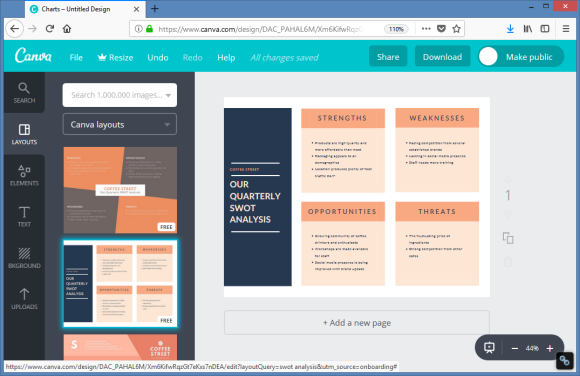 Gliffy
Gliffy is another very handy visualization tool meant for making different types of charts online. Like Canva, Gliffy also provides various templates to help you with your design tasks. However, unlike Canva, Gliffy is a more minimalist diagram making tool rather than a comprehensive web app for making online presentations, brochures, banners or other type of designs. Gliffy is best for making flowchart or mind map like diagrams using shapes, or making use of simple text based design elements for designing diagrams.
Unlike Canva, Gliffy doesn't come with a free version, however, you can opt for a free trial to test the service.
Go to Gliffy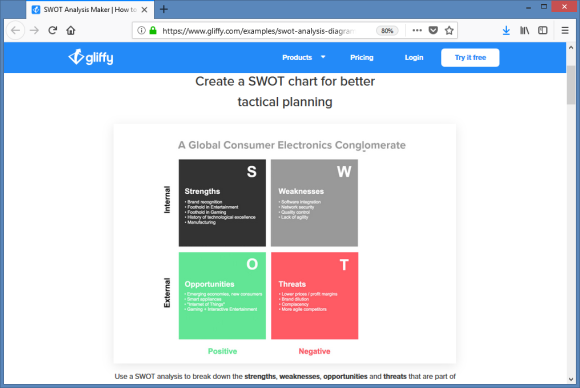 SWOTAnalysis.com
This is a simple visualization tool meant for making and sharing SWOT analysis online. Using this web app, you can quickly design a SWOT analysis, as well as create a variety of diagrams based on PESTLE analysis, Alignment analysis, Candidate analysis, Why analysis, etc.
Go to SWOTAnalysis.com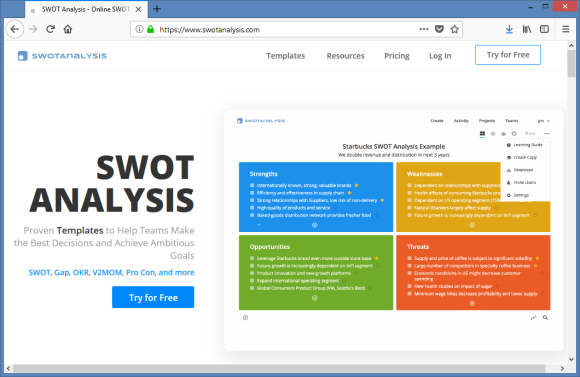 The three easy to use tools given above can help you design and share a professional looking SWOT analysis in no time. If you know of a good tool for making a SWOT analysis online, share your thoughts with us by leaving a comment.